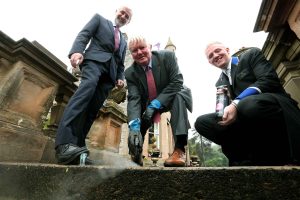 NORTHERN Ireland company Expelliere has signed an exclusive deal with leading specialist distribution group Bunzl Ireland to supply its ground-breaking chewing gum removal product Xpelgum to customers across all of its market sectors.
Xpelgum is a unique and highly innovative solution to remove discarded chewing gum, a perennial problem which has scarred pavements and public spaces for decades and created a $50bn industry worldwide.
The product was successfully launched last month and the partnership with Bunzl will see companies across Northern Ireland and the Republic of Ireland using the environmentally safe solution to safely remove chewing gum from a variety of surfaces without causing any damage.
The Bunzl Group is a successful £5.4bn a year sourcing and distribution company headquartered in Epsom, London and is listed on the FTSE 100. With operations in the Americas, Europe and Australasia, Bunzl distributes into 27 countries worldwide, including Ireland.
In Ireland Bunzl operates safety and cleaning, retail, healthcare, packaging, hotel supplies and guest amenities, catering equipment and disposable divisions in Armagh, Newry and Dublin.
Tom Dalzell, Purchasing Director of Bunzl Ireland, said: "As Ireland's leading 'one stop shop' we endeavour to put our customers first by offering innovative solutions like Xpelgum to the modern business.
"Bunzl is customer driven and our success comes from understanding our customers' needs and delivering product when and where they need them.
"Xpelgum is a welcome addition to Bunzl's portfolio and we look forward to working with Expelliere International," he added.
John McCandless, Chairman of Expelliere International, said: "We're delighted to sign this exclusive deal with Ireland's leading specialist distribution group, Bunzl, which will deliver our ground-breaking product Xpelgum to thousands of businesses across Ireland, to offer them a commercially viable solution to the ongoing problem of discarded chewing gum.
"Since launching Xpelgum last month we have had a significant amount of interest from both public and private sector businesses across the world and our partnership with Bunzl has confirmed our belief that we have developed a product with true global appeal," he added.