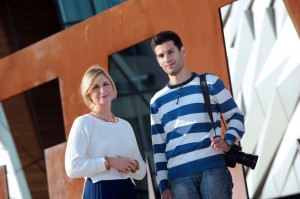 EXCITEMENT is building ahead of the announcement of the route for the Giro d'Italia's 'Grande Partenza' which takes place in Northern Ireland next May.
In advance of the race, the Northern Ireland Tourist Board hosted an Italian journalist from cycling specialist magazine Cicloturismo.
Claire Keenan of the NITB is pictured with Giuseppe Scordo of Italian cycling specialist magazine Cicloturismo, who was visiting Northern Ireland as a preview to Giro 2014.
The Grande Partenza of the Giro d'Italia, one of the world's foremost cycling spectacles, will take place in Northern Ireland in May next year.
And the Italian cycling journalist was hosted by NITB on a tour which included visits to a number of top attractions across Northern Ireland.
The Giro d'Italia will once again focus the eyes of the world on Northern Ireland and excitement is already building for the world-class event, with exact details of the route being announced next week.