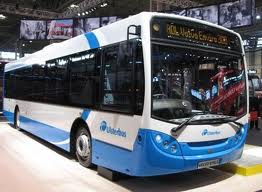 TRANSLINK is to introduce new vehicles on its Belfast-Derry route as a result of buying 23 new buses after a £4.5 million investment from the Department of Rural Development (DRD).
The coaches will run between regional towns and Belfast and will replace some older Ulsterbuses.
The buses have a higher specification than the average Ulsterbus but are a level below Goldliners – for example, there will be no Wifi access on the vehicles.
According Regional Development Minister, Danny Kennedy, the new coaches meet high standards in terms of comfortable seating, modern interior design, wheelchair accessibility and comply with European emission standards.
He added: "A key objective in investing in public transport is to encourage commuters and other travellers to use public transport for their journeys instead of the private car.
"These buses which offer a modern attractive transport option will contribute to that goal."
He said further investment was planned for later this year including more than £10m to be spent on 79 new Ulsterbus and Metro buses.
Catherine Mason, Translink group chief executive, said it was the first time they had operated "these kind of buses" on inter-urban services and were already getting some "great feedback" from customers who were "enjoying the enhanced levels of quality and comfort on board."
She added: "Their introduction will no doubt help to make bus travel even more attractive to those people who want to access their local town or city to work, shop or study. As such we hope many more people give their local bus service a try and ultimately make it their preferred way to travel."
As well as Belfast, the others areas areas which will benefit from the new coaches include Antrim, Larne, Coleraine, Newtownards, Bangor, Armagh, Newcastle, Derry, Magherafelt and Dungannon.