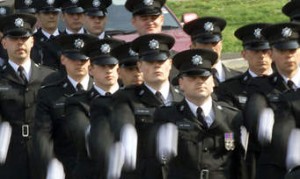 THE PSNI is to host a "familiarisation" event in Derry this week as part of a recruitment campaign to enlist 100 new officers.
It is almost three and a half years since the last recruitment campaign and PSNI are hoping to initially make up 100 appointments by March next year, the end of the current financial year.
Arrangements are currently being put in place to maximise police recruitment up to 378 additional officers within 2014/15, if and when additional funds are made available.
As part the recruitment process, the PSNI is to undertake a series of familiarisation sessions throughout Northern Ireland including Derry.
Encouraging people to attend the recruitment process, Derry police commander Chief Superintendent Stephen Martin, said it was a "wonderful opportunity" for the people within the local area to get involved in policing.
He added: "Becoming a police officer is a challenging career, but it is not just a job, it is a vocation. I would encourage anyone who is interested in joining the Police Service to come along to the familiarisation events and get further details about the recruitment process and what it takes to be an officer."
A PSNI spokesperson said as one of the largest employers in Northern Ireland, police feel they can offer a "challenging but rewarding" career, with opportunities to work with communities and partners to make Northern Ireland "safe, confident and peaceful."
The spokesperson added: "We are looking for people who can commit to a career of public service, and play their part in a dynamic and forward thinking organisation."
The PSNI said: "The familiarisation sessions aim to promote awareness among and encourage applications from under-represented groups. The Police Service of Northern Ireland continually strives to be representative of the entire community."
Priorities in the forthcoming campaign, which gets underway this Thursday, will be to encourage applications from the following groups:
• Young people – reflecting the need to address the age profile of the organisation, which is increasing as a result of no recruitment for more than three years.
• Fermanagh, Tyrone and Derry– increasing applicant flow from these areas will allow greater flexibility in the allocation of police resources, and better resilience for local community policing
• The Catholic community – The Police Service of Northern Ireland is ready and willing to work in partnership with local politicians and community leaders, to build on the progress towards a truly representative workforce.
• Areas of social deprivation – in an effort to increase the traditionally low response rates previously.
Each of the familiarisation events starts at 9:30am and lasts for one hour. Each session consists of an overview of the application and selection process and a guide to the physical competency requirements.
The independent consultancy, Deloitte have been appointed to oversee the recruitment process.
The Derry event will take place in the Everglades on Tuesday next, 24 September. Hour sessions commence at 9.30am with last session beginning at 7.30pm.
Information is available from the www.joinpsni.co.uk website from today.