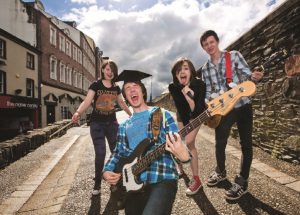 A ROLLER derby, live caricature drawing, a Fruit & Veg Orchestra and a dance explosion for tots are just some of the quirky events taking place at this year's Culture Night in Belfast and Derry.
The evening promises to be an entertainment extravaganza for the whole family, says the Northern Ireland Tourist Board (NITB).
On Friday, September 20 the streets and venues of the Cathedral Quarter in Belfast and the City of Derry will come alive with music, theatre and dance for a magical evening of adventure and NITB is calling upon families to take this opportunity to celebrate Northern Ireland's diverse cultural talents in a unique way.
Culture Night is open to everyone and this year's event promises to be bigger and better than ever with plenty of events taking place to entertain families says Helen Carey, Culture and Arts Officer of NITB.
"The event is simply a night for everyone to come together and explore, discover and enjoy the rich talent that people of Northern Ireland have to offer," said Helen.
"It offers a fantastic platform for artists to showcase their talents with businesses, community centres and historic buildings opening their doors for a night of unique and wacky events. There will also be on street entertainments creating a carnival atmosphere and making Culture Night a very memorable experience for everyone," she added.
To help get you started NITB has highlighted some of the unique events for families that will be taking place this year in Belfast and Derry;
CULTURE NIGHT BELFAST
Alice & the Mad Hatters Absurd ACROquet, Buoys Park – Look out for Alice & the Hatter taking their pet flamingos out for a dander, handing out personal invites to an absurd game of ACROquet! If you haven't experienced this unique and bizarre game, you simply must swing by and have a go.
Jump, Jiggle and Jive, Buoys Park – join this dance explosion for children aged one to seven and jump, jiggle and jive with experts in children's entertainment.
Wheels of Derby, Writer's Square – Check out this full contact, fast paced sport in action and learn some derby lingo. Find out what a power jam is, why it's good to get a goat and why there's so many whistles! Stick around to watch this fast paced sport as two teams battle it out to win.
Fruit & Veg Orchestra, Donegall Street – If you've ever wanted to play with your dinner then this event is for you with banana brass, sweet potato strings and parsnip percussion sections. No musical experience necessary, you'll be shown what to do or you can just listen to the sweet sounds of vitamins B, C & E.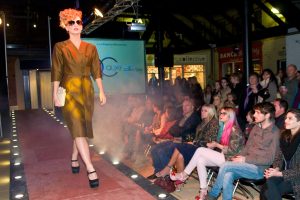 Dragonfest, Wickerman – Enjoy an interactive dragon puppet workshop for both kids and grown-ups.
CULTURE NIGHT DERRY
Echo Echo Dance Company, Magazine Street – A series of improvisatory dance performances.
Grease is the Word, St Brigid's College – A community musical adaptation of "Grease is the Word" featuring an all star cast of some of the city's newest and brightest up and coming stars.
Kids Activities, Whittaker Suite, Guildhall Street – Come along and enjoy a special treat for the children with magic show, a puppet show and craft workshops.
Open Mic Comedy Night, Millennium Forum – Joining Danny McCrossan on a stage are local and national comedy wannabes who are keen to give it a go!
Fab Lab, The Nerve Centre – If you've ever wanted to design and print your own t-shirt, make some jewellery, art or furniture then come along and use a combination of open source design software and computer controlled machines to turn your creative ideas into reality.
Tribal Fire and Tribal Beat, Guildhall Square and City Walls – The North West's premier performance troupes join forces to dazzle and amaze the crowds with the greatest of fire finesse.
A short break in Northern Ireland starts from £49 per room. To book a short break and find out more on Culture Night click on www.discovernorthernireland.com or visit your local tourist information centre.