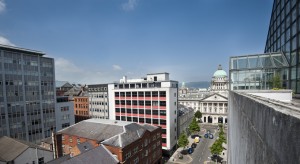 A TEAM of experts, funded by a grant from the major technology services company IBM, are due to arrive in Belfast next week.
They will be here to start a three-week project to determine how the city can become an even better place in which to live, work, visit and invest.
Belfast is the first city on the island of Ireland and only the third ever in the UK to receive the prestigious consultancy grant – worth an estimated $400,000.
The project is part of the IBM Smarter Cities Challenge grant programme, a worldwide initiative to provide a total of $50 million worth of services and technical assistance to the most progressive 100 cities around the world through 2013.
Lord Mayor of Belfast, Councillor Máirtín Ó Muilleoir, said the city was keenly anticipating the visit and would be "rolling out the welcome mat".
"This is an enormous coup for Belfast and we will be making the most of this incredible opportunity to have this level of world leading expertise at our disposal," he added.
The IBM experts will study segregated and deprived areas of Belfast to identify ways of reducing health and social inequalities. Their aim is to help Belfast City Council and a range of agencies to collectively plan future services and investments to benefit local communities.
IBM's Smarter Cities Challenge grant, the company's single-largest philanthropic effort, provides the expertise of top IBM employees to cities and counties. Issues addressed include health, transportation, economic development, education, finance, sustainability, public safety, and e-government. A number of cities have improved citizens' quality of life because of IBM's recommendations.
Congratulating Belfast, Stanley S Litow, IBM vice president of Corporate Citizenship & Corporate Affairs, and president of IBM's Foundation, praised Belfast City Council for "convincingly demonstrating its preparation and willingness to make the kind of improvements that will improve its residents' quality of life and become a smarter city".
"We consider it a privilege to share with Belfast the talent and expertise of our most gifted employees, who are the envy of the industry. They have premier skills in a range of disciplines -all useful for helping to build smarter cities and a smarter planet," he said.