BY TIM HEDGLEY, TRAVEL EDITOR
FOLLOWING the massive amount of coverage given to Fermanagh during the G8 summit, I popped down to the now very famous; Lough Erne for a weekend's cruising with www.leboat.co.uk.
Le Boats, range of boats can accommodate small groups of 2 right up to parties of 12.
There is no doubt that hiring a boat is a great way to discover if you like cruising and its far more affordable than one might think. On board you get all of the creature comforts you would expect to find in a vacation home.
Fully equipped galleys, hot and cold running water, lounges, en-suite showers and bathrooms, some boats even have air conditioning and there is the odd flat screen TV. Also provided are all the tools you need to be a good captain, from navigational charts, mooring tools to life jackets and of course your binoculars.
I arrived at the Le boat, Belturbet centre to collect my Shannon Class cruiser.

Belturbet is a peaceful and welcoming town, which straddles the border between the north and south of Ireland. After filling in the paperwork, I had to decide on my insurance requirements.
Le Boat obviously encourages all customers to take great care not to damage their boat, or that of anyone else, while on holiday. All customers must pay either a non-refundable Collision Damage Waiver (CDW) or a refundable Collision Damage Deposit.
You have a choice of two options:
Option 1: Non-refundable CDW
With the non-refundable CDW, you will be fully covered if your boat is returned damaged, or if there is any accidental damage or injury to third parties. Rates vary from £105 – £230 depending on boat type and duration and in certain circumstances Le Boat may insist on a deposit rather than the CDW.
Option 2: Refundable Collision Damage Depositindex
If you have some experience of boats and consider you will be able to handle all situations you may opt to pay a refundable damage deposit of £1,010 – £1,730 instead. This is payable on arrival at the base and will only be retained if the boat or any of its equipment or inventory is returned damaged or lost, or in the case of any accidental damage to third parties. The decision is entirely yours.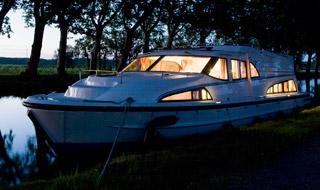 Once all the paperwork is out of the way one of the instructors will ask you to watch a short briefing video and then bring you down to your boat and give you a walk round and inspection of the craft, and then you will be taken out and given some instruction on how to steer and moor the craft. It all sounds a bit technical but you do need to take heed of what is being said. After 20 minutes or so of instruction, you will be captain of your own craft and then the fun begins.
What's already on board?
All boats are equipped with a 12-volt cigarette lighter (the same as a car), which can be used to plug in your adapter lead for a mobile phone or any other low power equipment with the appropriate connection. Some models also have 220V plug sockets (providing power when cruising or when 'hooked-up' to a shore power supply).
You don't need to bring much to the boat apart from your food and clothes as they come fully-equipped with just about everything else:
Linen, duvets, pillows
Towels and tea towels (not beach towels)
Fridge and gas cooker
Kitchen utensils and cutlery
Heating
Cushions and curtains
Security, mooring and safety equipment, including life jackets.
Power supply, radio and cd player
Cruising maps and documentation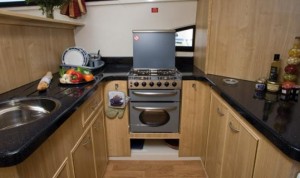 Some models have more features and equipment and you can also add optional extras such as Bicycles, Barbecue & Lanterns or Grocery Packs & Eco-Cleaning Packs etc.
After setting off from Belturbet, I set a course for Crom Castle jetty. About and hours cruise or so from Belturbet. This is an idyllic setting for a peaceful nights sleep on the Erne, We tied up, cooked a meal had a glass of wine or two and spent the evening fishing.
Boating on the Erne, takes away all the stresses of life, mind you the heart does race a little when your mooring for the first few times, but once mastered its never forgotten. The beauty of life aboard a boat is that you have no set places to visit. You can literally go where the water and your mind takes you.
There's no rushing to the next destination, unless you want to.
If you're new to boating, it's a kin to travelling in a cosy floating villa, with all the comforts of home. Each day you wake up in a beautiful new destination!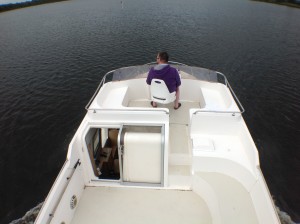 Gently pottering along at 5 knots gives you time to reflect on the mad racing world that happens on terra firma. www.Leboat.com offer a wide range of boats to hire, which make it easier to find the right craft for you. The best thing to do is simply visit their website and check out an amazing selections of boats and designs and find the right craft for you.
After leaving Crom Castle it was off to Enniskillen, I moored at the marina right at the Erneside shopping centre. The Erneside is ideally located right at the waters edge, so if you need to fill up on supplies its just about the best place to do it.
Inside the boat we had most of the luxuries of home, kitchen, two bathrooms, spacious living areas, flat screen TV, radio and 240 volt plug sockets provided by a 12v inverter. We also had navigation charts, an emergency telephone and binoculars.
The Erne and Shannon waterways are navigated using charts (supplied) and the numbered navigation markers make navigation extremely easy, and goes a long way to prevent you getting lost.
My last night of my 48-hour sojourn was spent at Carrybridge. Although a big marina, Carrybridge has the infamous hotel. Its loved and visited by all, great food, generous portions and superb service makes this a "must visit" destination for boaters and land lubbers alike.Carrybridge is an ideal place to more your boat and maybe give yourself an evening off from cooking, so if you are down in that part of the world pop into the hotel for a meal, bar snack and some free wi-fi in the bar area.
Food is served all day with an evening a la carte menu. Fish dishes are of course their speciality and there is weekend entertainment throughout the year. Needless to say with a bit of "Craic" at Carrybridge, I too decided to take my own advice and moored up for the evening, went to the hotel and had a beer or two and a great meal and a superb nights sleep.
Next morning I was back to Belturbet to hand back my boat at 0900, cleaned, tidied up and everything packed up my boat was fuelled and the amount I had used charged to my account. I had only used 100 euros of fuel so it turned out to be very good value.
All in all if you fancy a great local holiday in superb surroundings, with world-class views, great food and some great fun they check out www.leboat.co.uk and get yourself on the Erne and Shannon waterway.