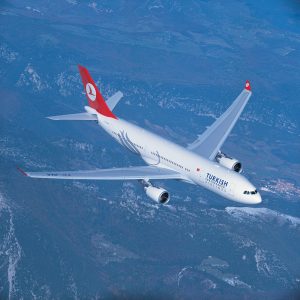 BY TIM HEDGLEY, TRAVEL EDITOR
FOR  many of us, travelling abroad is a very exciting time. There is the preparation and packing, the trip to the airport, the checking and anticipation of the checking staff saying, " Sorry Sir we are overbooked would you mind travelling in First Class? Oh how nice that would be?
For me it's the smell of aviation fuel and the way you sink into your seat just before take off. I'm not religious, but I always say the Lords prayer to myself before we leave the ground. I am generally a little nervous until the seatbelt sign goes out and then I relax.
Like many people who have to travel long haul, there is a tendency to think connections can only be obtained through London, Frankfurt or Paris. But there is an alternative and one that not many may think of.
I went to Hong Kong recently and I decided to try Turkish Airlines as an alternative to going through the more traditional London route.
What I found was an excellent airline and it's no wonder why they were voted "Best Airline in Europe for 2012. I flew in economy, first to Istanbul and then on to Hong Kong.
Economy Class: Who says Economy class is sardine time?
Generally what people think of when they hear economy class, is sardines?
Well not in my case actually, first of all on most Turkish Airline Long Haul flights, seat pitch is 31-32 inch (78 cm) and seatback recline, is 6 inches (15 cm), however, the seat pan also moves forward an additional 1.5 inches (3.5 cm) providing a total recline of 7.5 inches (19 cm).
Now maybe you're sitting up and taking notice or on a Turkish airline flight reclining a bit!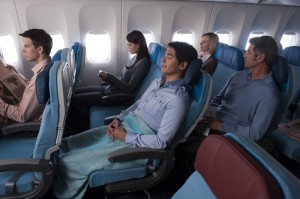 You know the problem, you have your ipad/pod or tablet and you battery needs some power, well good news as there is an on-board power receptacle on the front foot bar underneath the seat, which supplies energy for laptops and other electrical devices. (Now you normally have to travel business to get that!) to add to that, a personal USB and Ethernet jack is also available at each seat.
So that's the tech-ies covered!
If you don't own an ipad etc don't worry, the on-board digital systems will keep you occupied with a plethora of TV channels to cover all tastes on board, for example children's films, television series, dramas, documentaries, sports, travel, food, fashion and so much more. Music, game players and even audio books. In-flight connectivity also enables passengers to send and receive text messages and e-mail. News, films and short programs are offered to passengers on all flights of more than two hour, compare that to the competition!
CATERING
So that's your seat taken care of, your entertainment, oh yes your food comes next on the list of priorities.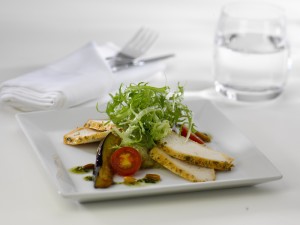 Again Turkish Airlines keeps delivering. I am sure you will be delighted to know that according to Skyscanner.net a panel of international travellers has declared that the best food on board an aircraft, is served by, you guessed it Turkish Airlines.
Skyscanner included 19 international airlines from around the world in the study and ranked them according to the scores that had been received from passengers.
Turkish Airlines took first place with a score of 86% for its menu, which includes such dishes as stuffed eggplant and walnut pear tart. As well as standard meals, the airline also offers a range of special meals including children's, Kosher, vegetarian and seafood options.
In second place is Singapore Airlines, on which Gordon Ramsay has previously offered his expertise as part of their culinary panel, while Etihad took third place ahead of UAE rival Emirates which came in 5th behind Aer Lingus.
Comfort Class – Turkish Airlines Amazing network
The number of passengers Turkish Airlines carried in January 2013 was 3.2 million, an increase of 23% over 2012. On domestic routes, the increase was 9% and on international services they posted a whopping 34%. Increase over the previous year.
The Turkish airline route network is very considerable and they fly to over 220 destinations in 96 countries across the world.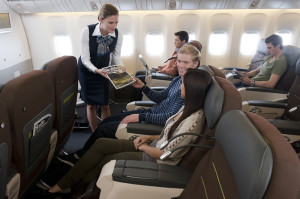 Not only do Turkish Airlines fly to the most countries in the world, they provide the largest selection of destinations in Europe too.
From Los Angeles to Tokyo and just about everything in between, maybe you would consider Chisinau in Moldovia, Kermanshah in Iran, Hong Kong, Singapore, Thailand or Afghanistan, yes-Turkish airlines go there, all with some amazing prices too.
But they are not just award winners for their destinations, as only a few months ago they won the award for Best Premium Economy Class airline seat at the 2012 and Best Premium Economy Catering at 2011 World Airline Awards. And it gets even better.
Free City tour for connecting flights
Most long haul flights from Dublin will connect in Istanbul and if your connection time is longer than 6 hours and your waiting time is between 09.00 am – 18.00, you can to take the advantage of Turkish Airlines city tour programme, this unique programme is organised only for international transit passengers and its free of charge! If you factor in a good long stopover, you can visit the city that once was the capital of the Roman, Byzantine and Ottoman Empires.
So if you are considering a trip abroad, don't just consider the ordinary – consider the extraordinary and think Turkish Airlines.