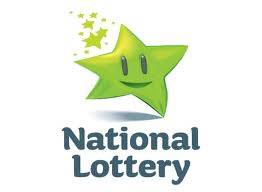 A LUCKY woman who has revealed how she found her €258,528 EuroMillions winning ticket at the bottom of her rubbish bin the night before it was to be emptied!
The single-parent, who wishes to remain anonymous, bought her lucky ticket while holidaying in Donegal.
She popped into the EuroSpar in Laghey, Co. Donegal and bought an €8 Quick Pick for the EuroMillions draw on Tuesday, July 30,  2013.
"I never play EuroMillions so I don't know what came over me that day. I just asked for a ticket", said the shocked but delighted lucky winner today at National Lottery offices as she received her fantastic prize of €258,528.
"I forgot all about it until a few weeks later when I saw a picture of the same shop in the newspaper and the story that a winning EuroMillions ticket was sold there", she said.
"But I couldn't remember where I put my ticket. I searched the car – no ticket. I searched the house, top to bottom – no ticket. I looked in the recycling bin – no ticket. Then I searched the normal bin. It was due to be emptied the next day, so it was very full. I went all through the bin to the very the bottom, and there it was – covered in onions, olive oil and garlic but still in one piece!!" she smiled.
The lucky lady wrapped her ticket in kitchen roll and presented it at National Lottery offices today.
"It still doesn't feel real – I can't believe that I came so close to losing the ticket and now I have the cheque in my hand", she said.
The delighted woman from Co Galway matched five numbers and one Lucky Star in the EuroMillions draw on Tuesday 30 July 2013 to win the €258,528 prize. She plans to buy a house with her winnings.
This Friday's EuroMillions jackpot is an estimated €25 million. Play before 7:30pm on Friday 30 August 2013 for your chance to win riches beyond your wildest dreams!