A returning north Belfast parade has reached St Patrick's Church in Donegall Street, Belfast.
Around ten PSNI landrovers have been positioned near the church.
Among the marchers are DUP north Belfast MP Nigel Dodds and Housing Minister Nelson McCausland.
Nationalist residents have held a counter protest.
Among the protestors is Sinn Fein Culture Minister Caral Ni Chuilin.
During the morning parade, one band played the 'Sash' outside the church, against a ruling by the Parades Commission.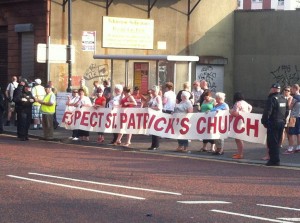 However, the Orange Order defended the decision saying the church doors were closed at the time.