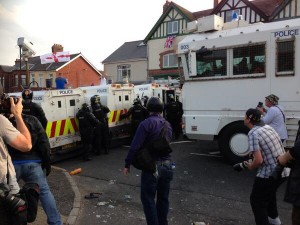 TWENTY-ONE police officers have been injured and baton rounds fired and water cannon used during trouble in Belfast on Friday evening.
As a result, the PSNI is bringing in more "mutual aid officers" from the UK to cope with violence in Belfast.
Belfast Daily understands that several hundred more officers from England, Wales and Scotland will be arriving in the early hours of Saturday morning as fresh reinforcements to the PSNI.
As a result of the violence, the Orange Order has called off all street protests.
DUP MP Nigel Dodds was taken to hospital unconscious after he was struck by a missile thrown by a loyalist rioter in the Woodvale area of north Belfast.
He and party colleague Nelson McCausland have been allowed through police lines in north Belfast to talk to senior PSNI chiefs.
Mr Dodds said he was trying to work with police in a bid to "ease tensions".
Over 20 baton rounds were fired during trouble in the north and east of the city.
Late on Friday night, police came under petrol bomb attack in the Woodvale area as street lights were put out by loyalists.
First Minister and DUP leader Peter Robinson said: "Violence and attacks on the PSNI and the wider community are wrong, can never be justified, and must stop.
"While there is justifiable anger and frustration at the Parades Commission – who bear much responsibility for the situation in Belfast, as do those who attacked parades as they passed certain locations – nonetheless, those who are using the cover of protest to attack the police are massively damaging the cause they support.
"Violence is undermining a just cause and runs totally against the wishes of the Orange Order for protest to be entirely peaceful."
Mr Robinson added: "My thoughts are with those who have been injured this evening, including my colleague Nigel Dodds MP and other Orange Order members, police officers and civilians."
Hundreds of loyalists are blocked in by police in Twaddell Avenue while hundreds of nationalists gather at Ardoyne roundabout.
Two women were hurt when they were struck with police baton rounds in the Woodvale area. Paramedics have been at the scene treating them for their injuries.
It came after police stopped Orangemen and bandsmen from walking past the Ardoyne shops.
Trouble erupted at Woodvale Road and Twaddell Avenue. There has also been trouble at Cambrai Street.
Loyalists are blaming the PSNI for the trouble erupting.
One said: "I saw it first hand. The police started this. A number of people have injured from baton rounds.
"Baton rounds were fired without warning. About ten were fired in total.
"The PSNI are finished after this. People in this area will never work with them again."
DUP Health Minister Edwin Poots tweeted: "You work hard to make NI peaceful and Parades Commission reward violence, tonight we have more violence."
And deputy First Minister Martin McGuinness tweeted: "Responsibility for tonight's violent attacks on Police & the community rests with the Leadership of the Orange Order,they are a disgrace."
Police say land rovers came under attack and a senior officer gave the order for water cannon to be used.
There are also reports of homes being attacked in Lancaster Street off North Queen Street.
Around 400 nationalist youths have gathered on the Crumlin Road.
Sinn Fein MLA Gerry Kelly has climbed on top of a PSNI land rover to address youths in a bid to ease tensions.
In east Belfast, Orangemen paraded past St Matthew's Church on their return journey home.
However, serious rioting now erupted in the area and baton rounds were fired.
Loyalist and republicans clashed at the Short Strand interface, hurling missiles, stones and bottles.
Loyalist rioters were also letting down tyres on police land rovers on the Lower Newtownards Road.
PSNI moved in but were pelted with bottles.
Senior officers have now called people to clear the Newtownards Road.
Police in riot gear have moved in with dogs and orders have been given to move water cannon into the area.
The Police Federation said: "Police have come under attack in several parts of Belfast.
"Officers are responding with water canon and AEP deployment (baton rounds)."
Senior PSNI officers have called for an end to the trouble.
The PSNI said: "Police are appealing for calm and asking for strong leadership for all parties."