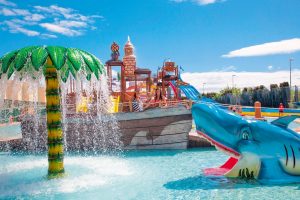 BY TIM HEDGLEY, TRAVEL EDITOR
NORTHERN Irish sun seekers will be spoilt for choice next summer as Falcon Holidays announces two new destinations to its summer holiday programme 2014.
Now on sale, Falcon Holidays will offer a more family orientated side to the Balearic Island of Ibiza or a Greek adventure in Corfu, one of the most picturesque Ionian islands, both with weekly flights from Belfast International airport.
Speaking at the summer programme launch, Carol Anne O'Neill, General Manager of Falcon Holidays said: "We are excited to announce two new holiday destinations for our summer 2014 programme.
"Ibiza and Corfu offer something new and exciting to Northern Irish holidaymakers. Both destinations have simply stunning beaches and glorious sunshine as well as a wide range of accommodation choices including a Holiday Village and SplashWorld resort, a dedicated Falcon Kids' Club in Ibiza and a selection of self-catering and all inclusive properties and hotels.
"The variety of holiday packages is sure to make Ibiza and Corfu a popular choice for families, groups and couples alike in summer 2014."
Carol Anne added: "Falcon Holidays has a surprise in store for holiday makers with the launch of a new online campaign celebrating the new Summer 2014 brochure and offering holiday makers an incredible opportunity. Watch this space for more details on the "Find the Falcon Family" Facebook competition."
The new holiday destinations for summer 2014 offer something a little different and cater for everything from families, to couples, to the young and lively. Ibiza has the best of both worlds. Visitors can enjoy the chilled and more relaxed side to the Balearic Island with a choice of family friendly resorts from Port des Torrent to Santa Eulalia, which holds the reputation for being the island's gastronomic and cultural centre. Particularly welcome news is the new Holiday Village in Ibiza, a holiday concept which has become a popular choice for families.
Another new holiday hot spot is the Greek island of Corfu which boasts sandy beaches, Venetian heritage and mind-blowing scenery. Considered to be one of the prettiest Ionian islands, Corfu offers a low-key escape at the northern resort of Acharavi and Corfu town too, is certainly worth a visit with its age-old fortresses and stunning Venetian houses. The island also hosts a SplashWorld resort in Agios Ioannis where holidaymakers can enjoy an all-inclusive package with a waterpark, right on their doorstep.
To make the most of your summer 2014 holiday, Falcon is offering lots of reasons to secure your holiday now including a range of early booking savings. There are free child places on offer and savings of up to £120 per couple when you book before 31st August 2013. You can also avail of free grandparent places, free group places, one parent family savings and there are free room and board upgrades to choose from.
Find out more by visiting www.falconholidays.co.uk, calling 028 90 389 359 or by visiting your local travel agent.
FALCON HOLIDAYS – 'SUMMER SUN 2014' LAUNCH HIGHLIGHTS
· Summer 2014 adult prices from £259pp, child prices from £149pp and family prices from just £949 for a family of four. All Inclusive holidays from £669 per adult and £269 per child. Upgrade from self-catering to all-inclusive from just £25 per person per night and upgrade from half-board to all-inclusive from just £13 per person per night.
· Guaranteed FREE Child Places – in selected accommodation throughout the summer season if booked before 31st August, 2013.
· FREE Child Places – available in selected apartments & hotels throughout the summer season on a first come, first served basis.
· FREE room and board upgrades – in selected accommodations if booked by 31st August, 2013.
· FREE places for Grandparents (limited), and FREE places for groups (both available throughout the summer season).
· Up to £120 discount per couple at selected accommodations – book by August 31, 2013.
· One parent family savings – first and second child discounts with only one full fare paying passenger – available at selected apartments.
· Falcon's unique two-way guarantee – assures holidaymakers of the lowest prices as well as added flexibility when booking – if booked before August 31, 2013:
· Lowest price: if within 14 days of booking with Falcon a customer finds a cheaper identical holiday from another Northern Irish tour operator's brochure, Falcon will match the reduced price with a further £10 off per booking, or refund the money paid.
· Holiday flexibility: change your departure date, duration length, destination or accommodation FREE OF CHARGE up to 10 weeks before departure, conditional on same number of people travelling and no reduction in holiday value.
· Ibiza boasts the new Holiday Village Seaview Ibiza which is an all-inclusive 4 star resort complete with 4 restaurants, pools and waterpark and has a Falcon Kids Club. It hosts adrenaline pumping slides like a sky-high multi-lane slide, while the Caribbean Pirates play area racks up 10 mini slides. The huge main pools are decorated with palms, a bar and a sea view sun terrace.
· Corfu boasts a brand new Splashworld Resort located in Agios Ioannis called Aqualand Village – an all-inclusive 3 star resort with an onsite waterpark that is ideal for families. As well as the many slides, there is everything from family rafting to a lazy river and the world's third largest wave pool.