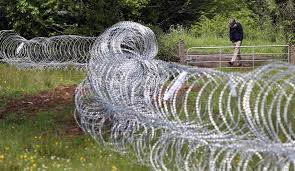 IT is the biggest security operation ever mounted in Northern Ireland to protect some of the world's most powerful leaders.
But the heavy security presence has not been matched with anti-G8 summit protestors who have not turned up any great numbers for the summit Co Fermanagh.
Eight of the world's most powerful leaders arrived in Northern Ireland for the 39th G8 summit, amid a lockdown at the Lough Erne Hotel and Golf Resort.
Host Prime Minister David Cameron arrived at RAF Aldergrove on Sunday night ahead of the two-day conference to discuss trade, tax, transparency and the ongoing conflict in Syria.
His guests arrived on Monday morning by plane before being whisked by a fleet of helicopters to Enniskillen before making the journey by road to Lough Erne.
Earlier on Monday, US President Barack Obama – joined by his family – delivered a keynote address at the Waterfront Hall before travelling to Lough Erne.
Other members of the G8 are: Russian President Vladimir Putin, German Chancellor Angela Merkel, French President François Hollande, Japanese Prime Minister Shinzo Abe, Canadian Prime Minister Stephen Harper, and Italian Prime Minister Enrico Letta are also in attendance.
Commenting on the policing and security operation today, ACC Alistair Finlay said: "The President of the United States delivered his speech this morning at the Waterfront Hall and all of the World leaders arrived safely in the Lough Erne Resort this afternoon where they have commenced their schedule of meetings.
"The policing and security operation continues to progress very well."
First Lady Michelle Obama and daughters Malia and Sasha are spending the day in Dublin.
There they retraced the Obama roots at Trinity College and later went to see a performance of Riverdance at the Gaiety Theatre.
Mr Obama visited the Republic two years ago, but this is his first trip to Northern Ireland.