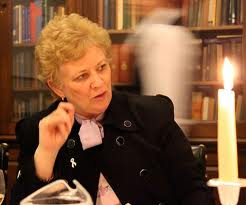 FORMER Police Ombudsman Nuala O'Loan has made a fresh appeal to republicans ahead of next week's day of reflection for "The Disappeared".
Baroness O'Loan called for anyone with information about the IRA abductions to come forward and alleviate the pain felt by the families whose loved ones are still missing.
She said such information could never be used in any criminal prosecution.
"If they could think of it in terms of if they lost a child or if they were lost as a child, they wandered off from their parents and the terror that invokes, and then imagine that terror for the next 30, 40 years., when you just don't know what has happened," she said.
"I think that they may not understand that the tiny, tiny bit of information that they have may be critical for recovering the body and it may lead to somebody else coming forward."
Since searches began, the bodies of ten of the Disappeared have be recovered, but seven are still missing.
The term 'The Disappeared' refers to 17 people murdered and secretly buried by republican paramilitaries during the Troubles.
Baroness O'Loan has been working with the victims group WAVE and made her appeal on BBC Radio Ulster's Sunday Sequence programme.
She said: "In each case, this wasn't one or two people who were involved in taking someone away and shooting them and burying them, there were whole teams involved.
"There was someone who abducted them, there was someone probably who questioned them, there was someone who drove them away, there was someone who dug a grave, there was someone who scouted out the way forward, when they were taking them away to shoot them," the baroness said.
She added there were also those who shot the victims and those who closed up the graves, and all could provide information to ease the families' suffering, without fear of prosecution.
"Anybody who comes forward with this information has a guarantee of anonymity. If they hold a great position in their local society, it will not be known that they are the person who provided the information."
Baroness O'Loan added: "Under the legislation that the government passed, any evidence or any information which emerges in the course of recovering one of these seven bodies can never be used in any legal proceedings, so there is, if you like, a complete protection for the information."
The day of reflection is due to take place on Friday 21 June, the longest day of the year.
One of those who will be commemorated is 23-year-old Brendan McGraw, who disappeared from west Belfast 34 years ago.
His wife was expecting their first baby when he was abducted from his own home in April 1978. His body has never been found.
"Father's Day is a great family day," his brother, Ciaran McGraw, told Sunday Sequence.
"People are enjoying seeing their kids, unfortunately my brother didn't get the opportunity to do that. It's the same for a lot of the other families."
Mr McGraw added: "There are still seven bodies that in 2013 haven't been found and we are always looking for the final piece of information."