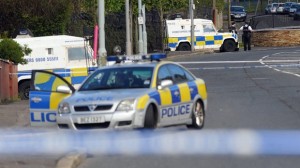 A 28-YEAR-OLD man has appeared in court on terror bomb charges.
Stuart Downes, who has an address in Shrewsbury, England, faces other charges including researching components of pipe bombs on the internet.
The alleged offences relate to an attack on two police officers who escaped injury when two pipe bombs were thrown at them in north Belfast last month.
Mr Downes denies the charges.
The police officers had been responding to a 999 call in the Ballysillan area when there were attacked.
Earlier this week, a 27-year-old woman appeared in court in Belfast charged with the attempted murder of the two officers.
A 62-year-old woman also arrested in connection with the attack was released pending a report to the Public Prosecution Service.