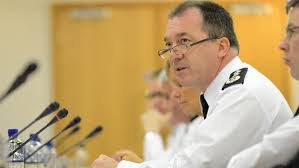 AROUND 20 loyalists heckled Gerry Adams and Martin McGuinness today as they arrived at a Sinn Fein conference which saw history being made as Chief Constable Matt Baggott became the first police chief to address a Sinn Fein conference.
Mr Baggott was addressing delegates to a conference at the Europa Hotel called Belfast: A City of Equals in an Island of Equals.
He told the packed conference that the the PSNI was increasingly being dragged into toxic areas such as parades and the past.
Sinn Féin's Gerry Adams and Martin McGuinness were heckled by up to 20 loyalists as they arrived at the conference at Belfast's Europa Hotel.