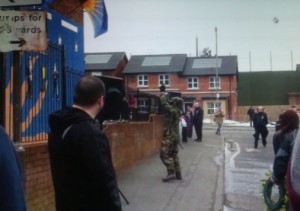 DETECTIVES from the PSNI's Serious Crime Branch are investigating an internet video of a dissident republican gunman apparently firing shots into the air.
The video, entitled Ardoyne Fianna 2013, was posted on YouTube at the weekend.
It shows a member of dissident faction Oglaigh na hEireann (ONH) dressed in paramilitary combat clothing with his arms raised and pointing a handgun into the air.
There were reports of a number of shots being fired in the area at the time.
At the same time a band is in the background waiting to march and play.
Police said they are currently looking into reports of the inicident. The video will also be studied
North Belfast DUP MP Nigel Dodds described the incident as "deplorable"
He added that children who are seen in a later video marching in front of the band wearing paramilitary style clothing and sunglasses were being used to glorify violence.
Mr Dodds said: "It is apparent that these shots were fired during a dissident republican rally on Easter Saturday organised by the so-called Republican Network for Unity in conjunction with the Henry Joy McCracken Republican Flute Band.
"The organisers of this event need to come out and clearly and unreservedly condemn the firing of these shots.
"Otherwise people will conclude that the presence of this masked gunman and the firing of these shots were not contrary to their wishes and, indeed, occurred with their support.
"Any instance of gunfire on our streets is deplorable and is an attempt to bully and intimidate and to undermine law and order. It is appalling that some republicans are so wedded to violence that they wish to perpetuate bloodshed on our streets.
"No-one should attempt to glorify the terrible consequences of terrorism, not least for the communities from which it emanates.
"Shots were fired towards police officers on the 12th of July last year in Ardoyne and there have several serious shooting incidents in the area since.
"Right-thinking people must unite in condemning this sort of blinkered and bitter indulgence of a mentality which has been rightly rejected by the vast majority of society.
"I call on all political parties to make clear their condemnation and abhorrence of what occurred."
Mr Dodds also questioned how well the parade and wreath-laying ceremony was monitored by police, and urged the PSNI to take action on the video footage.
He also called on the Children's Commissioner to investigate the participation of young children in such events.