AN ABANDONED car laden with a beer keg bomb was destined for a bomb attack on a Co Fermanagh PSNI station, say police chiefs.
The viable device was made safe by Army technical officers in the Derrylin Road area at around 11am on Saturday.
It followed a major security operation which began in the early hours of Friday forcing people to evacuated from their homes.
Army Technical Officers carried out a clearance operation on the suspicious vehicle and a viable device, which could have "killed or seriously injured", was made safe.
Police said early investigations suggest the car bomb was destined for Lisnaskea PSNI station.
District Commander Pauline Shields said: "Once again our community has been disrupted and the lives of residents put at risk by an element intent on causing loss of life and disruption.
"The people responsible for this have no regard for the lives of anyone in our community. It is fortunate that no-one was killed or seriously injured as a result of this reckless act.
"The people who carried out this act are not part of the society within which the majority of people of Northern Ireland wish to live.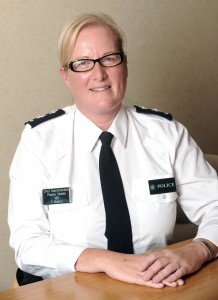 "The subsequent complex operation has tied up resources that would otherwise be dealing with community issues. We would thank members of the public for their co-operation and patience during this clearance operation."
Although investigations are at an early stage it is our assessment at present, that this vehicle was destined for Lisnaskea PSNI station.
The Police Federation, which representes rank and file PSNI officers, also condemned those behind the bomb.
"These cowardly thugs still don't get it. Terrorism will never succeed," said the Federation.
Last week, a mortar bomb was defused in west Belfast.
The device had been left on derelict ground in Ballygomartin and police believe the device failed to explode.
Detectives believe the device was to be used in an attack on New Barnsley PSNI station.