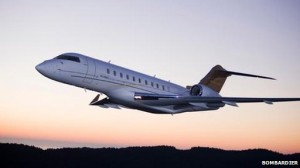 A £4.8 BILLION deal to build 142 private jet planes is "fantastic news" Bombardier Belfast, a UUP MLA has said.
East Belfast Assembly man Michael Copeland was reacting ot the new which was revealed on Tuesday morning by management.
It comes just a week after he and a party colleague were given a tour of the Shorts factory.
The deal – the biggest sale in the history of the Canadian-owned company – will see work coming to Belfast on component parts for 50 of the aircraft.
And it will have a knock-on effect for suppliers in Northern Ireland, say the company.
Vistajet, a private jet charter firm, has signed a deal for up to 142 global business jets in a deal worth more than £4.8bn (US$7.8bn).
In a statement, management in Belfast said the factory played a major role in the business jet sector.
"This order – the largest ever business aircraft sale in Bombardier's history – will help to sustain jobs and secure our long-term future, in addition to benefiting our local supply chain," it said.
"Bombardier in Belfast is responsible for the design and manufacture of a range of parts for the global aircraft family, including the forward fuselages, engine nacelles, horizontal stabilisers and other components."
The deal includes orders for 25 Global 5000 and 25 Global 6000 jets, parts for which are made in Belfast.
Steve Ridolfi, President, Bombardier Business Aircraft said they were "thrilled" Vistajet had picked them.
"We welcome Vistajet's ongoing commitment to global coverage within existing and developing new markets," he said.
"Our global aircraft are perfect for Vistajet's business strategy to deliver the ultimate business jet family to all corners of the world."
Bombardier, a Canadian company, came to Northern Ireland in 1989 when it bought Short Brothers plc from the UK government.
East Belfast UUP MLA Michael Copeland welcomed today's announcement.
'This is fantastic news both for Bombardier and for the local economy.  This contract is sure to sustain jobs in Northern Ireland and will have an equally good knock on effect for the companies in the supply chain who are also set to benefit.
"Indeed just last week I visited Bombardier along with my party colleague, Sandra Overend MLA and we were shown around what is an extremely impressive operation.
"The highly skilled workforce at Bombardier have put Northern Ireland on the map as one of the go to places for quality manufacturing," he added.