EXCLUSIVE: THE BBC was in the dock last night after it was accused of screening footage of a Celtic fan holding up a 'F**K THE HUNS' Tricolour scarf.
The footage was taken from Celtic's memoral 2-1 home win over Spanish giants Barcelona in Wednesday night's Champions League game at Celtic Park, Glasgow.
The Celtic scarfs were raised above their heads at the end of the game as Neil Lennon's 'Bhoys' celebrated an amazing win against Messi & Co.
Furious Rangers fans in Northern Ireland watched the slot on BBC Newsline's 6.30 pm show.
And they were incensed by what they saw on tea time news.
They put up tweets on Twitter voicing their anger at the 'F**K THE HUNS' shot going out live on television.
"This is a disgrace and shouldn't have been shown. This is sectarian," tweeted one angry Ranger fan.
Another tweeted: "Absolutely disgusted this was put on television."
However, arch rivals at Celtic seen the funny side of the BBC Newsline picture.
One tweeted: "It's the only thing Rangers have to shout about all season!"
The picture gaffe came on the same day that Donegal GAA manager Jimmy McGuinness joined Celtic.
He will combined his unpaid Donegal job with his new Celtic role as a performance consultant.
Said 40-year-old McGuinness: "It is a great opportunity for me in terms of my own development," said McGuinness.
"But it will also benefit Donegal because I will be learning new skills in a professional environment."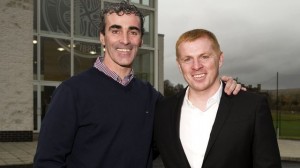 Celtic manager Neil Lennon said that McGuinness' appointment would have no effect on his role at Donegal.
"He will probably initially come in two days per week and we will take it from there," added Lennon.
Lennon also revealed that Celtic's majority shareholder Dermot Desmond was behind the recruitment of the Donegal GAA manager.
"We had a long conversation about both sports and sport in general and there is stuff I can learn from him (Jim) and there is stuff he can learn from us so it is a win-win situation.
"Jim has a skill set that we don't have here, in terms of the psychological side of the game.
"He will player profile the younger players, look at their strengths and weaknesses, study their background and their state of mind.
"He will not be able to coach, he is not a qualified football coach but he does know sport and has excelled in his own sport.
"So the cross to football will not be a problem.
"He will predominantly work with younger players but if I feel there is a first-team player that would benefit from Jim's skill I would have no hesitation in using him."
McGuinness was quoted as describing his new job as a "fantastic opportunity".
"My role will be based on developing the younger players in the club, development and Academy players that are U20 and that level," McGuinness told Celtic's website.