HE shot to fame in the Belfast Billy Plays in the late 1970s.
Today, Kenneth Branagh headed to  Buckingham Palace where the Queen told him: Arise Sir Kenneth.
Branagh is famous for his roles from Shakespeare to the lead in the BBC's Swedish detective series Wallander.
But he cut his acting teeth in his home town of Belfast in the BBC Northern Ireland drama series 'Too Late To Talk To Billy' opposite Jimmy Ellis.
Today, the Queen honoured him for services to drama and the community of Northern Ireland.
The 51-year-old, who was born in Belfast, said he felt "humble, elated and incredibly lucky".
"The last time a performed in front of the Queen, I was a 19-year-old drama student and my knees were knocking," said Sir Kenneth after his investiture.
"Thankfully, the Queen provided me with a stool today so my knees didn't knock!"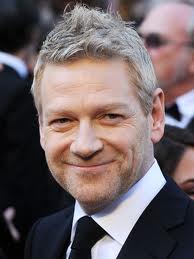 Branagh was knighted in the Queen's birthday honours in June.
He becomes a Sir, joining the ranks of fellow thespians such as Alec Guinness, Patrick Stewart and Laurence Olivier, who he played in last year's My Week With Marilyn.
Branagh, who recently directed comic book blockbuster Thor, also had a starring role in this summer's Olympics Opening Ceremony.
He played Isambard Kingdom Brunel in the show, which was directed by Danny Boyle.
Branagh spent his early years in Northern Ireland, where he is now honorary President of NICVA supporting all the organisations in the voluntary and community sector.
He moved to Reading with his family when he was nine, where he first adopted an English accent to avoid bullying.
"When I was a kid I dreamed of pulling on a shirt for the Northern Ireland football team," said Branagh.
"I could only imagine how proud you might feel. Today it feels like they just gave me the shirt and my heart's fit to burst."