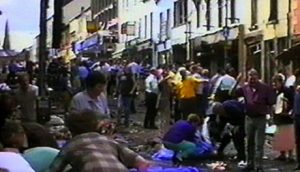 EXCLUSIVE: RUC Special Branch chiefs in Belfast have a secret telephone tape of the Omagh bomb maker saying: "I'm sorry. I didn't know this was going to happen."
However, Special Branch have never disclosed the existence of the tape to CID detectives hunting the RIRA killers or the families of 29 victims murdered on August 15, 1998.
Belfast Daily can reveal that the Real IRA bombmaker's landline and mobile phone numbers were being secretly monitored by the British Government's massive GCHQ listening post in Cheltenham, England in the hours and days after the attack.
Intelligence chiefs were desperate to pick up "any chatter" which could lead them to those who masterminded the attack, made the device and transported it to Omagh.
The technical surveillance, signed off in warrants by the then Northern Ireland Secretary of State Mo Mowlam, was in an effort to covertly monitor the activities of the Real IRA, which was formed in November 1997 following a split within the 'Army Council' of the Provisional IRA.
Those suspected of being the key figures in the attack lived close to the border in south Armagh or over the border in Co Louth and Co Monaghan.
Among those targeted for electronic surveillance were Michael McKevitt, Liam Campbell and Seamus Daly.
A fourth man – Suspect A – was known to both RUC and Garda Special Branch as being a key member of the Real IRA's bomb making department.
Now the Belfast Daily has spoken to a former security force member who was aware of the intelligence gathering being conducted by RUC Special Branch and GCHQ in the aftermath of the Omgh bomb.
Both the British Government under Tony Blair and the then RUC Chief Constable Sir Ronnie Flanagan promised a concerted effort to catch the killers and vowing to "leave no stone unturned" in the efforts to bring those responsible to justice.
He told us: "I remember after the bomb, there was the initial reaction of complete shock at the enormity of what happened.
"Then it was down to work. Every piece of intelligence had to be sifted through for any clues to those involved.
"I was aware that GCGHQ was monitoring calls for us on the Real IRA. GCHQ was contacted and asked to give us everything they had. We needed it badly.
"Mobile phones were a key part of intelligence gathering. They were regarded as golden nuggets in combating terrorism. We had their numbers, even though some of them lived in the Republic, and GCHQ were able to listen into the calls."
The source said that the most interesting telephone intercept came from the mobile number belonging to Suspect A who was talking to another member of the Real IRA gang also involved in the Omagh atrocity.
Said the source: "He (Suspect A) was clearly finding his conscience playing on him. It was obvious from the way he was talking that Omagh had upset him.
"He was recorded by GCHQ as saying: 'I'm so sorry. I didn't know that was going to happen. I am so sorry for what I did'.
"We took that to mean that he didn't expect the car bomb to go off in the middle of the town centre which would be full of shoppers on a Saturday afternoon. We assumed that wasn't the plan at all and those who left the device didn't follow their orders."
At the time of the attack, confusing bomb warnings to the Samaritans and UTV gave misleading information about what the target of the attack was in Omagh that fateful day.
As police were herding shoppers away from part of the town to another, the 350lb bomb detonated in the back of a stolen Vauxhall Cavalier car in Market street, killing 29 and injuring over 300 other innocent people.
Asked why this intelligence was never passed to CID detectives in the Omagh Bomb Investigation Team, the source told Belfast Daily: "We were told it was not ours to hand over.
"It belonged to GCHQ. We were told there were protocols in place and they had to be followed, whether we liked it or not.
"Nothing could leave 'E' Department (Special Branch) on those intercepts without the permission of GCHQ. That is what we were told.
"It could not have been used in court because intercepts were not admissable as evidence," added the source.
However, veteran CID detectives involved in major investigations believe everything should be "put on the table" for consideration.
"You can't put a jigsaw together with several pieces of the puzzle missing," said one retired detective who worked on a number of large CID inquiries.
"We all know that intercept evidence can't be used in court. But that is not to say that what is contained in it can't be used during the interview of a suspect to wrong foot him, to get him to talk, to get him to think: 'What else have they got on me?'
"But if you are not given the intellligence, then you don't know how to play your suspect in the interview room.
"If he thinks you are just on a fishing expedition, he will just sit there and keep quiet. But if you can unsettle him with something, unnerve him, you have a chance of getting him to open up and talk.
"Special Branch never really grasped that side of detective work. They were more interested in empire building and protecting their sources of information.
"But if you can't share the information what the hell is the point in have sources, human or otherwise. It's like having a library full of books but you can't lend them out. Pointless. Absolutely pointless."
The fact that GCHQ and RUC Special Branch have a secret recording of a remorseful 'Suspect A' shows how different wings of the security apparatus jealously guard how they collect, manage and disseminate intelligence, even when 29 people lay dead in the worst atrocity in post-war British history.
And our revelations about a secret recording of 'Suspect A' lends further weight, if needed at all, into award winning BBC journalist John Ware's Panorama programme into the atrocity four years ago.
In the hour long special broadcast in September 2008 and entitled: What The Police Were Never Told, Ware revealed that  GCHQ was recording mobile phone exchanges between the Omagh bombers on the day of attack as they drove the car bomb into the town
This was confirmed to Ware by Raymond White, former PSNI assistant chief constable in charge of crime and special branch and raised new questions about whether the attack could have been prevented or the culprits brought to justice.
What Ware didn't know for sure was whether GCHQ was listening to live exchanges between the bombers or whether they were simply recording the conversations.
If they were recording live events, it raised the question of whether GCHQ could have help thwart the attack.
ACC White told Panorama that the Special Branch officer responsible for requesting GCHQ's assistance is "adamant" he was expecting live monitoring.
White said the officer had asked for this "primarily for the purpose of triggering a pre-arranged surveillance plan" to interdict the bombers.
If intelligence officers were listening there were clues in the conversations, which though coded, could have acted as warnings.
These include the key phrase "The bricks are in the wall", a code meaning that the bomb was parked and armed.
That exact phrase had been recorded just two weeks earlier when bombers exploded a similar 500lb car bomb in the town of Banbridge.
But, as Panorama reported, even if GCHQ could not have stopped the attack from actually happening, more could have been done to help the investigation which followed.
Former Assistant Chief Constable White said that if GCHQ had shared telephone numbers and the identities of those using the mobiles immediately it would have meant that arrests could have been made in the "golden hours period" when forensic and other evidential opportunities were at their optimum.
Sources told Panorama that transcripts reporting exchanges with up to five mobiles associated with the bombers were sent to Belfast "within hours" of the bombing.
However, these were never disclosed to the detectives hunting the culprits.
In fact, former PSNI Chief Constable Sir Ronnie Flanagan told Panorama he was unaware GCHQ had been monitoring the bombers' mobile phones.
Ware reported at the time: "Even when information was passed on it lacked the detail necessary to help detectives build their case.
"The fact that the bombers had used mobile phones, and that GCHQ had voice recordings and their telephone numbers, was withheld.
"Consequently detectives were forced to spend nine months trawling through 6.4 million telephone records to finally identify 22 suspects' phones active in Omagh and four other bombings.
"Although this proved which mobiles had been in Omagh, prosecutors needed evidence of who had been using them before going to court.
"By law the GCHQ intercepts could not be admitted as evidence in court, but there was nothing to stop the details from being shared with the detectives to give them early leads.
"Detectives talk about the "golden hours" in the immediate aftermath of a crime. This period offers the best opportunity of gathering evidence against criminals who may not yet have been able to dispose of weapons, clothing and equipment containing DNA, fibres and other forensic leads."
Ware added that in the case of the Omagh bombing, had the mobile numbers used and the names of those believed to have been using them been disclosed immediately to the CID, "the suspects' homes could have been raided and phones and clothes recovered for forensic testing, which may have linked them to cars used in the bombing."
The intercepts could also have helped the CID detectives carry out more effective interrogations.
Added Ware: "Some detectives believe that had they been entrusted with this information they might have secured some admissions, because emotions were so highly charged by the scale of the carnage."
Ware said the most perplexing question was why the intelligence was not shared with the Omagh Bomb Investigation Team.
"Senior police sources believe the most likely explanation is a fear that details of GCHQ's secret technology and methodology would seep into the evidential chain if too much was shared with the CID and that this posed an unacceptable risk to the strategic capability of the UK's intelligence agencies.
"It is also not clear who got what and when. One well informed source insists that the GCHQ material was available to the Special Branch within six hours of the bombing.
"Special Branch sources have categorically denied this, insisting they were only given the details three to four days after the bombing.
"Special Branch insist that they gave this information, which had been sanitised by GCHQ, verbally to the CID 24 hours later .
However police sources say, the CID log records that detectives did not get names until three and a half weeks after the bombing. But this was of little use to them because they got no other details on which they could build a case – not even the fact that the bombers had been using mobiles.
"Special Branch sources say they were heavily restricted by GCHQ in what they could disclose to the detectives."
This confirms what the Belfast Daily's security source told us in relation to the intercept on 'Suspect A'.
GCHQ red tape and protocols prevented them being handed to CID, costing them vital time in the 'golden hours' to catch the Omagh bombers.
No one has yet been convicted of the Omagh atrocity.
Sean Hoey, who was charged with making the bomb, was acquitted at Belfast Crown Court after Mr Justice Weir threw found him not guilty of 56 separate terrorist charges.
The judge severely criticised prosecution witnesses and said two police officers had told untruths in a deliberate attempt to "beef up" their statements.
He said two witnesses had taken part in "a deliberate and calculated deception" which meant it was impossible for him to accept anything they said.
It was a devastating blow for the families who had alwasy been assure "no stone would be left unturned" until the killers were brought to justice.