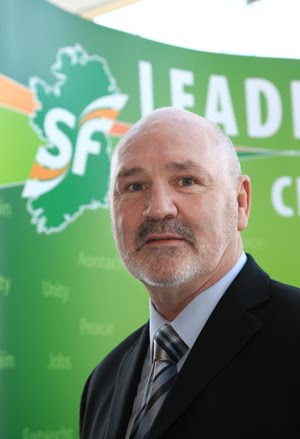 THERE are growing tensions within the Stormont Executive, with Sinn Fein claiming First Minister Peter Robinson
Sinn Féin MLA Alex Maskey said that Peter Robinson's speech in West Tyrone last night was a return to 'us and them politics' and had more to do with the approaching DUP conference.
The South Belfast MLA and Chair of the Assembly's Social Development Committee said: "Peter Robinson's leadership credentials both within unionism and as a senior figure in government have been called into serious question in recent times, most particularly with respect to the Orange parades, Unionist celebrations of the Covenant anniversary and the DUP attitude to the Tory Welfare cuts agenda.
"Regrettably Mr Robinson has been found wanting on all counts. He has now returned to the 'us and them' politics and this is more to do with the upcoming DUP party conference.
"It's ironic that Peter Robinson began his speech in West Tyrone with a reminder of the recent commemorations in Belfast of the Ulster Covenant.  He may yet want to comment on whether or not the events of the summer months on parades and the covenant centenary celebrations represents the sort of unionist unity he appears to crave and boast about."
Maskey claimed that Robinson's backing of loyalist marchers showed the Orange Order tail was wagging the DUP dog.
"Mr Robinson should be embarrassed about the recent centenary celebrations rather than boasting. What could and should have been turned into an opportunity to reach out to nationalism and share history was instead reduced to the level of the sectarian triumphalism," said the west Belfast politician.
"Put again to the leadership test a short time later on the Tory attempts to impose their Welfare Cuts agenda Mr Robinson is once more found lacking.
"The DUP got it wrong on the Welfare Cuts from day one.  It may be naivety or it may be that some within their ranks support the Tory policies. In fairness to Mr Robinson, he has truly represented his party view.
"To a person they have acquiesced and Mr Robinson has been to the fore in articulating this.  From day one they accepted the Tory cuts, and said as much.
"Sinn Féin, on the other hand, are resisting them and challenging them.  We have flushed all parties out on this important issue.  The Bill must be changed and that is the bottom line.  That is the Sinn Féin position, not the DUP position.
"Mr Robinson is right about one thing, the Assembly will be judged on whether or not it delivers. Judgement time is here Peter.  Let's see what we can do to ward off the welfare cuts, let's see what we can do to protect the disadvantaged and the less well off.
"Let's see who is up for the challenge.  And let's see who will show the mettle and leadership to drive this forward in the better interests of the people we represent.   Sinn Féin is certainly up for it. The jury is out on whether or not Peter Robinson or the DUP are."