EXCLUSIVE: A SINN FEIN woman who was allegedly one of 70 people in a bar the night Robert McCartney was murdered by the IRA top's Belfast City Council's expenses table.
The Belfast Daily can reveal that Markets councillor Deirdre Hargey raked in over £20,000 in ratepayers' cash in the last financial year.
And part of her earnings comes from sitting on a District Policing Partnership board even though she wouldn't talk directly to police probing Mr McCartney's murder.
According to the city council's recently published records, her expense claim is almost £1,000 ahead of her nearest rival – the Sinn Fein's party leader in the great 'Dome of Delight'.
Ms Hargey, 30, was a Sinn Fein election candidate at the time an IRA gang led by RUC Special Branch informant and senior IRA man Jock Davison murdered Robert McCartney on January 30, 2005 following an argument.
The Sinn Fein member was in Magennis's bar close to the Markets district when Mr McCartney was killed.
However, in a statement to a solicitor, Ms Hargey said she saw nothing.
It later emerged that around 70 people who were in the bar, with many claiming they were in the toilet at the time the attack took place, also saw nothing.
Ms Hargey's statement prompted fury from Mr McCartney's family. His sister Catherine said Ms Hargey should give a direct account to the Police Ombudsman.
"They should stop giving notes. This isn't misbehaviour in the classroom," she said at the time.
"Giving statements to solicitors is absolute nonsense.
"They should go to the police ombudsman who has skilled investigators. Even Gerry Adams himself said to do that."
According to Belfast City Council figures, the 'City Fathers and Mothers' claimed a whopping £721,855.43p between them over the last 12 months.
That works out at around almost £14,000 per councillor in the chamber.
Ms Hargey claimed a total of £20,438.86p in the financial year for 2011-2012.
This included:
£9,738 in basic allowance;
£5,970 in a District Policing Partnership Allowance;
£4,353.46p as chair of a principal committee;
£280 in tax free mileage;
£8.34p in mileage VAT;
£88.80 in taxable mileage.
Short Strand party colleague Niall O'Donnghaile claimed a total of £38,184.82.
However, his claim is made up of £29,467.74p in his Lord Mayor's allowance for the period.
He only claimed a basic councillor's allowance of £8,717.08p.
Ms Hargey's nearest rival on the league table is Sinn Fein's leader in the council, Jim 'Flash' McVeigh.
The 48-year-old, a former 'Officer Commanding' of the IRA in the Maze prison where he served two sentences for paramilitary offences, claimed a total of £19,929.45p
This included:
£9,738 in a basic allowance;
£2,520 District Policing Partnership allowance;
£5,345 in party leader's allowance;
£65.13p in telephone allowance;
£1,678.97 in mileage;
£50.03p in mileage VAT;
£532.00 in taxable mileage.
The SDLP's Councillor Tim Attwood is third in the league table, claiming a total of £19,634.38p.
This included:
£9,738 in basic allowance;
£5,970 in DPP allowance;
£3,219 in party leader's allowance;
£384 in deputy leader's allowance;
£239.92p in mileage;
£7.08p in mileage VAT;
£76 in taxable mileage.
DUP Alderman Christopher Stalford comes close being 'Flash' McVeigh claiming a total of £19,388.12p.
His figure includes:
£9,738 in basic allowance;
£2,520 in DPP allowance;
£1,922.50 in deputy leader's allowance;
£5,207.62p as chair of a principal committee.
Propping up the bottom of the expenses table are councillors Jim Kirkpatrick and Elaine McMillen who claimed a paltry £1,020 each in the last financial year.
The murder of Robert McCartney in a Belfast city centre bar  provoked international outrage.
Mr McCartney, aged 33, was stabbed and beaten to death by a mob of at least 12 men, the majority of them IRA members, outside the city centre bar in January 2005.
Brendan Devine, a friend of McCartney, was slashed across his throat and from chest to navel and miraculously survived.
The IRA attackers was led by Jock Davison, the 'Officer Commanding' the IRA's Northern Command and a one time high ranking Special Branch informant. His uncle, Freddie Scappaticci was the British Army's most high ranking agent inside the Provisional's who was codenamed 'Stakeknife'.
Davidson's 55-year-old uncle, Terry 'Tight Trunks' Davison, was later acquitted at a trial in June 2008 of murdering Mr McCartney. He was also acquitted of affray.
It is alleged that Mr McCartney was murdered after he refused to apologise for making a rude gesture in the bar to Terry 'Tight Trunk' Davison's wife.
Two of 'Tight Trunk' Davison's co-accused, Jim 'Dim' McCormick, 43, and 51-year-old Joseph Fitzpatrick, were also found not guilty of affray. Fitzpatrick was acquitted on a further charge of assault.
What incensed Robert McCartney's family was the fact that known Sinn Fein members, who had put their names forward as local election candidates, appeared to have seen nothing of the savage attack.
They included Cora Groogan, (pictured first on the left) and Deirdre Hargey, then aged 23 and another rising female in the party.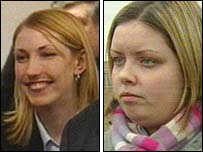 Mr McCartney's family accused Sinn Fein of covering up the fact that city council candidate Hargey and Assembly hopeful Groogan were in the bar the night of bloody attack.
Like Ms Hargey, Ms Groogan said also did not witness anything in the bar and later made a full statement to her solicitor.
It prompted an appeal by Catherine McCartney for any other party members who were in the bar to disclose what they saw.
"Some of these people don't have a problem with the police, they just pretend they do," she added.
Another McCartney sister, Paula, said at the time that in her opinion the situation "stinks of a cover-up" as it took Ms Groogan six weeks to come forward and make a statement.
She said Ms Groogan had a duty to present any evidence she may have before a court.
"The fact that it has been six weeks and she is only putting that statement in now, with the full knowledge that a solicitor is an inadequate way of gathering knowledge," she said.
"She may feel that what she saw was unimportant – I think that is for the police to decide.
"I believe it was her public duty – she should have gone straight to the police with this."
Ms McCartney added that the fact Miss Groogan had waited so long to come forward had led the family to wonder about how many Sinn Fein or IRA members were in the bar on the night of the murder.
Ms Groogan later confirmed that she had been among 70 people in Magennis's bar on the night in question.
Sinn Féin and the IRA have always denied the McCartney sisters' claims that they were preventing witnesses from coming forward.
However, at one stage the IRA offered to "shoot" a number of people in connection with McCartney's death.
Following the acquittal of 'Tight Trunks' Davison, 'Dim' McCormick and Joe Fitzpatrick, Sinn Fein said: "The murder of Robert McCartney was a brutal act which was widely and deservedly condemned. Sinn Fein has consistently supported the McCartney family in their campaign for justice. We have urged people with any information to bring it forward to the PSNI and will continue to do so.
"It is clear from both the trial evidence and statements from the police that a large number of witnesses have come forward. This is a criminal matter which needs to be dealt with by the police and the courts."
Almost eight years after Robert McCartney's brutal and cold blooded murder in a Belfast city centre street, no one has yet been convicted of his killing or even with withholding information about the attack.
Follow us on www.twitter.com/belfast_daily
Follow us on www.facebook.com/belfastdaily