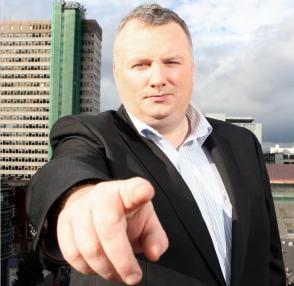 A HECKLER had to be removed by security at the BBC tonight during a live broadcast of the Nolan Show.
A man from East Belfast refused to remain quiet as Tory Edwina Currie went on the BBC1 Northern Ireland show to defend Government cuts.
"What about the ten people who committed suicide in east Belfast last month," shouted one man from the crowd.
Mrs Currie said she couldn't hear what the man was saying because he was shouting.
And then Nolan stepped in to warn the member of the audience that if he didn't keep quiet he would be removed.
Studio directors only gave a quick glimpse of the incident before switching cameras back to the panel.
Rumblings continued for several more minutes as security staff grappled to remove the protestors.
Former Tory cabinet minister Currie backed welfare cuts.
"You're too depending too much on Government money," she told one member of the audience.
YOU CAN LEAVE YOUR COMMENT BELOW: