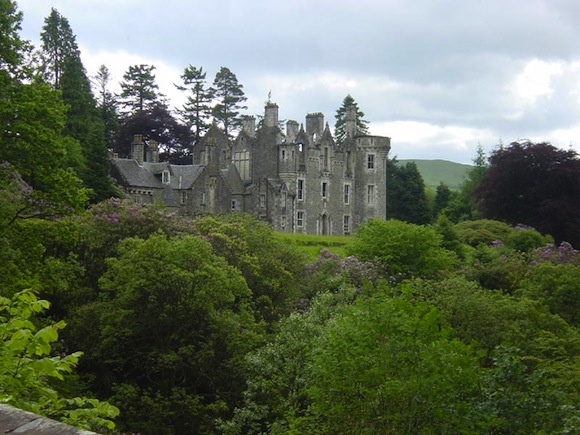 TRAVEL: BY TIM HEDGLEY: When writing travel articles I try to find out holiday ideas that whilst comfortable, are a little bit unusual. I took a look at what Scotland had to offer and I went over there a few weeks ago for a number of reasons.
I wanted to try out the new Stena Superfast ferry to Cairnryan and use CulzeanCastleas a base for touring the area. The super fast ferry is a far cry form the conventional ferry's that used to ply the route to Scotland and the Stena Plus lounge (upgraded lounge area) is more like a 5* hotel than a ferry.
With Apple Mac computer stations, widescreen TV's, free WI FI, recliner seats, table service and free drinks and snacks it's a surefire winner. And you can even have a spa visit and book a private suite! The Stena service is truly a wonderful experience. Stena Line operates the largest, most luxurious ferries to and from Scotland. And the Stena Superfast VIII offers a high level of quality, comfort and service never before seen on the Irish Sea. With a crossing time from only 2 hours 15 minutes and 12 sailings per day on the new Belfast to Cairnryan route, there is ample opportunity to get a crossing that suits you. www.stenaline.ie.
So having decided on my route I started looking around and came across accommodation options at a castle in Ayrshire of all things. Culzean is one of Scotland's best-loved Castles, offering something for everyone to enjoy. The first written reference to a Tower House at Culzean dates to the 1400's then, it was known as 'CoifCastle'. This name was altered to 'CulleanCastle' in the 1600's and the present spelling adopted sometime in the 18th century. The recorded history of Culzean properly starts in 1569 when Sir Thomas Kennedy was given the Culzean estates by his brother, the 4th Earl of Cassillis. He began building and enlarging the tower house around the 1590's. In the 18th century a chain of events occurred that transformedCulzeanCastlefrom a relatively modest tower house into a neoclassical mansion. This magnificent building has a number of secrets contained within and one of them is you can actually stay there!
The National Trust for Scotland looks after the Brewhouse Flat and staying there you can enjoy the atmosphere of Culzean to the fullest in this comfortably furnished period flat and for a day or two you will actually be king of the castle. The accommodation comprises: one double bedroom and one twin bedroom, sitting / dining room, kitchen, and bathroom.
Private car parking for up to two cars at the top of the steps is available and there is private garden area for guests with garden furniture provided and access to the country park. A week's rental costs from £400-00 for the apartment. See: www.nts.org.uk/Holidays. If you want an unusual setting for some luxurious accommodation then check out the National Trust for Scotland website. My second reason for being there was to use Culzean as a base for touring Ayrshire. I had heard that a new scheme for restoring an old Castle was running at Castle Dunans so it was off for a short hope across to the Isle of Bute and then back to the mainland to visit Castle Dunans. Calmack ferries (www.calmack.co.uk). Calmack ferries sail to 24 destinations offScotland's west coast, through some of the most spectacular coastlines and landscapes in theUK and no matter which ferry you take, bring your camera as you are sure to see a spectacular site.
I took a ferry fromWemyssBay across to Rothesay and then I then drove up the island for about 20 minutes and took the ferry from Colintraive – Rhubodach. Using these ferries saved me in excess of 4 hours driving and it was a truly spectacular journey. If you have not tried a Calmac ferry you will be justifiably impressed and its totally understandable why they were Voted "Best ferry company" in the 2011 Guardian and Observer Travel Awards and Scottish Public Transport Operator of the Year 2011.
After half an hours drive back on the mainland I finally arrived at Dunans Castle (main picture) is an historic building set in a dramatic wooded landscape, with a superlative rubble-built bridge providing access across the salmon-filled river running at its foot. Set on a ledge, itself bounded by an Ha-ha, this romantic edifice can truly claim to be one of Scotland's hidden gems. Unfortunately it suffered extensive damage in a fire 10 years ago was it was bought by a local businessman Charles Dixon-Spain, who aims to restore the Castle to its former glory.
Charles explained "here you have the opportunity to become part of Dunans Castles history by becoming Laird or Lady of Dunans Castle, historic seat of the Clan Fletcher, Dunans Castle has the best views of the tallest tree in the UK, and in fact the lairds' and ladies' plots are only 10 metres from the foot of the great tree itself!"
By becoming a Laird or Lady of Dunans Castle, you will assist in preventing Dunans Castle becoming one of the Lost Mansions of Argyll, preserving and maintaining designated areas of heritage woodland along with a unique bio diverse landscape containing locally and nationally rare species and supporting a carbon-aware, ecologically-sound project.
There is no doubt that this is a very clever and unique way of raising the millions of pounds require to restore the Castle, but a clever way of keeping people involved in it, and maintaining a feeling of ownership.
One wonders how many Castles in Ireland could consider a similar type of restoration project and generate some badly needed funds in our own fair isle. Just imagine how the Americans would love to own a piece of Ireland!