SINN Fein has denied toilets were wrecked at Belfast City Hall during the party's Xmas knees-up following an alleged drunken brawl.
On Sunday, the DUP claimed the toilets were smashed in the East Wing on Friday, December 20, after a booze-fuelled row erupted among Sinn Fein guests at the bash.
It wants the police and Belfast City Council to investigated the incident.
However, the Sinn Fein leader on the council, Jim McVeigh, accused the DUP of 'shit' stirring.
Said councillor McVeigh: "Contrary to the DUP, a good evening of celebration was enjoyed by all who attended.
"The following day it was discovered that at some point during the previous evening, some damage was done to the public toilets.
"We do not know who was responsible for any damage or whether it was malicious or accidental.
"And contrary to mischievous reports, the toilets were not smashed."
Mr McVeigh added that Sinn Fein hosts the party at its own expense and that it would be "only too happy to co-operate" with any council investigation into the damaged caused.
A City Hall spokesman confirmed that the urinal had already been replaced.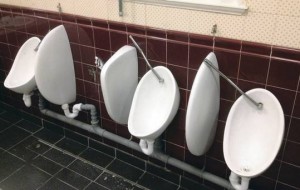 However, no price to the ratepayer has been put on the cost of the repairs and damage to the public toilets.
In a statement on Sunday, the DUP claimed damage was caused to the men's toilets in the East Wing of the building during the Xmas party.
According to the DUP, one of the men's urinals was pulled off the wall, along with metal water pipes as a result of which the toilets have been closed to the public for over a week.
DUP Group Leader Councillor Lee Reynolds said: "Our information is that the Sinn Fein Christmas party on Friday 20th December ended in a confrontation which spilled out from their party room into the nearby men's toilets.
"We have received reports of drink fuelled fighting during which metal water pipes and one of the urinals were pulled off the toilet walls.
"We are calling for a full investigation by Council officials and the PSNI to ascertain what occurred and who was responsible.
"If it is possible to identify the culprits then charges should be brought.
"Every political party is responsible for the guests it invites into City Hall.
"This is a beautiful and historic building, enjoyed by tens of thousands of visitors every year and it should be treated with respect not abused."
He called on Sinn Fein to offer a full and frank public explanation of what occurred.
Added Cllr Reynolds : "No event should cause the closure of part of the building through an act of vandalism or drunken fighting."