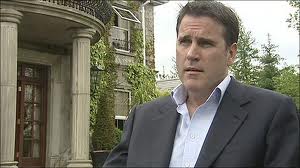 TWO brothers whose property empire they built from scratch collapsed during the economic crash have won a second landmark case against the Ulster Bank.
Farmer's sons Michael (pictured) and John Taggart once ran a business empire worth €600M but a €19M plot at Kinsealy in Dublin is now at the centre of a legal battle.
Ulster Bank claims the Taggarts owe them £5M and €4.3M in personal guarantees and has been involved in a protracted legal battle to get the monies.
The Taggarts have counter-sued the banks, claiming in essence that Ulster Bank brought an end to their empire – and the loss of 500 jobs – without proper cause.
The Ulster Bank had vigorously opposed the Taggarts bid to have three cases heard together, arguing that such a ruling would be detrimental to the commercial life of Northern Ireland.
But today Mr Justice McCloskey ruled that the cases, which had many common themes, should be heard together – ruling in favour of the Taggart brothers.
The bank had previously won a summary judgement which would have forced the Taggarts to hand over €4.3M in personal guarantees allegedly linked to the Dublin land deal.
But last July at the High Court in Belfast Mr Justice Bernard McCloskey set both judgements aside and ordered a full new hearing into the cases.
In his judgement Mr Justice McCloskey noted that the Taggart brothers had been described in Sunday Independent in 2006 as "the richest people in the country."
He also noted that the Taggarts had contended during the hearing "that there is, as a minimum, a possible unexplained shortfall of some Stg£18M in repayments allegedly made by the Taggarts to the Plaintiffs (Ulster Bank) – some Stg£39M versus around Stg£21M."
In his ruling today Mr Justice McCloskey said: "I have formed the clear view that the joinder of all three actions is likely to save time and costs; will avoid duplication of effort and energies; will secure from the Court a single adjudication of all of the issues belonging to the dispute among the parties; will ensure that no party gains a litigation advantage to the possible detriment of the other; will preserve as level a playing field as possible; and will provide an equal measure of fairness to all parties."
The Taggarts began their property empire as teenagers on building sites in London before moving back to Drumsurn, Co Derry, where they oversaw property developments throughout Northern Ireland.
The brothers' property empire went into administration in 2008, a year after the contended personal guarantees were allegedly signed.
The court will reconvene on April 29 to decide on dates for a three-week trial – with May 7 or June 3 possible start dates.