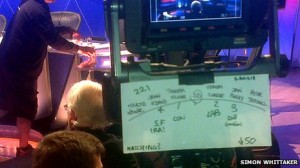 THE BBC is at the centre of a political storm over a floorplan for a Question Time programme referred to John O'Dowd as 'Sinn Fein/IRA'.
Now the Sinn Fein Education Minister has demanded an "immediate explanation'' from the BBC.
The clip board was attached to a camera in the Belfast studio detailed the position of the panellists.
The show was broadcast on Thursday night hosted by veteran broadcaster David Dimbleby.
Among the guests were DUP North Antrim MP Ian Paisley jnr, Northern Ireland Office Secretary of State Theresa Villiers MP and... More