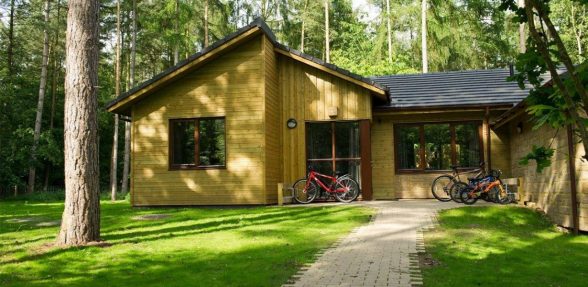 BY TIM HEDGLEY, GROUP TRAVEL EDITOR
Center Parcs Ireland officially opened its doors a couple of weekends ago and just about every Irish travel journalist was there to witness a new type of Irish holiday park emerge on to the market.
Center Parcs is not a new concept in Europe and now its but its finally arrived here and what a spectacular place it is. Visiting was a truly educational visit and I'm certain I had have witnessed a new Irish holiday being born on the Island of Ireland.
Sustainably, exercise, bio-diversity, low carbon footprint and great fun are all part of the ethos of Center Parcs.  As their website explains:
"Our villages are built deep within the forest, enabling families to enjoy acres of unspoilt woodland where they can interact with nature.
"This close link with the natural environment means we have always been committed to the protection of our surroundings and the woodlands in which we operate, but our responsibilities go far beyond this.
"As a sustainable business, we seek to benefit and improve the communities in which we operate.
"We aim to minimise our impact on the environment and encourage biodiversity when caring for Center Parcs' forests and the wider surroundings.
"We also understand the importance of a sustainable community and work closely with our staff, local suppliers, communities and charities across the UK to improve the way in which we operate and the wellbeing of our stakeholders.
The new Center Parc Ireland is truly a wonderful place, built deep in the heart of Longford forest in rural Ireland.
Nestled in 400 acres of beautiful woodland, Longford Forest is just five kilometres from Ballymahon, it features 466 self-catering lodges and 30 apartments.
There are up to 100 indoor and outdoor family activities, from adrenaline-fuelled adventure, to relaxing and creative pursuits it really is the perfect place for families to be together.
Guests will be able to enjoy a range of restaurants, shops, their superb Aqua Sana Spa and the famous Subtropical Swimming Paradise.
Center Parcs Ireland now boasts the largest water park in Ireland, featuring an array of water rides and activities for all ages, all at a balmy temperature of 29.5°C all year round.
Accommodation and lodge holiday breaks
I arrived on a Friday and fortunately it was a beautiful afternoon. On arrival at the park there are several drive through check-in stations. Catherine met us, she smiled and welcomed us to Center Parcs, she told us where to go, gave us some maps and information and explained that we empty our cars at our chalet and then return our vehicle to the main arrival car park.You then collect your bicycle and cycle back to your chalet.
That was the last I saw of my car for the whole weekend and I did not miss it one bit.
From now on it was pedal power and that is pretty rare for me!
Walking into the cycle centre it was obvious this was a slick operation, my bike was one of 1,500 new bikes, there were tots bikes, kids bikes, bikes with stabilizers, trikes, mountain bikes and even electric bikes, who would have thought it?
My wife got a trike as she had never learnt to ride a bike and I got an electric pedal assist bike.
We well I wobbled off to our lodge to explore our new home from home.
The lodges.
There are a multitude of lodge types on offer at Center Parcs, basic lodge, luxury, executive and each one of their self-catered lodges is nestled in your own slice of natural forest.
The lodges are perfect for couples or small families and close to all the facilities.
They are called lodged but really they are 5 star quality, houses, all are all fully equipped with everything you'll need for your break, with stylish designs and open-plan living, they are the perfect base from which to explore this part of Ireland.
Try a Woodland Lodge for the family or if en-suite bedrooms make all the difference tries an Executive Lodge.
Or go all out for sheer luxury with an Exclusive Lodge. Whichever you choose, you will not be disappointed.
My Woodland Lodge wanted for nothing, my living accommodation was akin to a 5-star guest suite.
Fully fitted kitchen even a wine cooler!  Open plan seating and dining area, built in TV's in living areas and bedrooms.
Delightful en-suite bedrooms (two) and everything one could want, super Wi-Fi, it was truly a delightful living space.
But I was not going to be spending too much time in the lodge as I had a mass of things to do before bed.
After a quick cuppa my wife and I were off to explore. We cycled down to the sub-tropical swimming zone to have a peek inside.
This inspiring space is Kept at a delightful 29.5 degrees and what a place for you and your children to spend many hours.
It looks a bit like the birds nest stadium in Beijing but inside it's an amazing play area for all kinds of water related activates, slide, rapids, lazy rivers, flumes, wave machine it has it all.
It open most of the day and its sure to have the kids ready for a long sleep after fun in here.
For the grown-ups there is the sublime Aqua Sana Spa. This is the grownups play park.
Smelling salts essential oils and steam are the order of the day.
The Spa is themed on Icelandic lines with Fire, Ice and Herbal themes. Aqua Sauna Spa has steam rooms, saunas and relaxation areas where you can lie on a hot bed and sleep away the hours. It's a busy place and booking is essential.
Although busy it amazing! Three-hour sessions start from a cool €43pp and treatments from €34.
Amazing Value
There has been a tendency for multinational companies to rip off captive customers. But Not here, I went through the Parc supermarket and found the prices to be exceptional.
I have to take my hat off to Centre Parcs for their family friendly pricing, they had every opportunity to make as much money out of the customer as they could but the didn't well done. All families run on a budget so don't expect to be hammered here as you can get a bottle of Sav blanc for about €8 euros. Spend a mere €40 and your groceries are delivered free of charge to your lodge,
Eating Out or in
Center Parcs has its own brand eateries, I only visited one which was Hucks, an American themed diner. Food was well priced, beautifully presented, tasted delightful and service was amazing. As Center Parcs say:
"after combing the West Coast and scouring the Deep South we've found some mouth-watering recipes to introduce to our new Huck's menu. So whether you fancy fresh Californian flavours like our prawn tostadas, smoky New Orleans-style ribs or a steak cooked just like they do in Texas, we have you covered"
Our Lil' Huck's buffet is perfect for the little ones to tuck into before they burn off some energy in our indoor play areas*. For children with more grown up tastes we've introduced our Hucksters menu with favourites such as 4oz rump steaks and cod goujons."
There is also an Italian, Indian and Chinese restaurant to choose from and plenty of café and coffee shops.
Top tip
If you decide cooking is not for you but want to stay in, order takeaway. Everything from Chinese to Indian and Italian and all at great prices too.
Activities
I'm bored' is something that is rarely heard at Center Parcs.
With up to 200 indoor and outdoor activities to choose from, you can take your pick from adrenaline-fuelled thrills, calming creative activities and relaxing spa treatments, as well as a range of water sports and activities for the whole family.
With something suitable for every age, and every personality, the whole family will find an activity they love.
When I was in Longford I booked the Laser Combat.
An hour of fun filled frolics with a laser infrared machine pistol.
Shoot the family, your friends or the enemies it's your choice, but by goodness it's great fun.
Longford has it all, crazy golf, boating lakes, kayaks, zip lines, treasure hunts, and much much more. You can book activities online and its advisable to do so, the earlier the better.

How much will a Center Parcs holiday cost you?
Center Parcs holidays can be three night/four day stay, Friday, Saturday and Sunday, or a four night/five day stay Monday to Friday. The Prices I have listed here are based on two adults and two children staying mid-week.
Two-bedroom Woodland lodge
Mid-term: Monday, October 28th – Friday, November 1st: €1,099
Off-peak: Monday, November 4th – Friday, November 8th: €349
Peak summer season 2020: Monday, July 27th – Friday, July 31st: €1,199
Four bedroom Woodland lodge
Mid-term: Monday, October 28th – Friday, November 1st: €1,699
Off-peak: Monday, November 4th – Friday, November 8th: €499
Peak summer season 2020: Monday, July 27th – Friday, July 31st: €1,599
 Activity costs  
Bicycle hire for the duration of a visit: Adults €35, children €27.50
Aerial adventure: €32
Aerial tree trekking: €30
American pool (one hour): €8.50
Archery (55 minutes): 12 years + €26, under 12s €22
Badminton (one hour): €8.50
Craft (pleasure boat) hire (30 minutes): €9.75
Indoor climbing (55 minutes): 12 years + €20, under 12s: €17
Laser clay shoot out: 12 years + €27, under 12s €23
Wildlife walk: 4 years + €8.75
Pottery painting studio (90 mins): 12 years + €6.50, under 12s €5.50
Roller-skating (60 mins): €9.50
Segway experience (45 minutes): €30
Treasure trail (90 minutes): 12 years + €6.50, under 12s €5.50