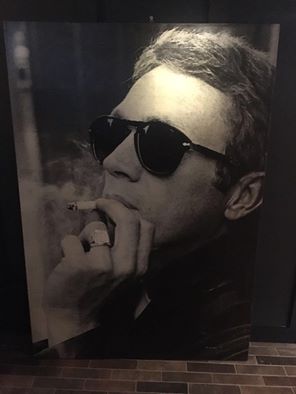 POLICE are appealing for information in relation to the theft of a 6 foot by 4 foot portrait of Steve McQueen taken from the Bullitt bar on Ann Street in Belfast city centre.
The theft happened around 8.15 pm last night, Sunday, October 16.
A PSNI spokersperson said: "It is believed two females were involved in the theft.
"They are described as being both in their late 60's, both had shoulder length blonde hair and both had glasses.
"One of the females was wearing a zebra print jacket.
"The female who carried the portrait away was also noted to have a walking aid.
"The females made their 'getaway' onto Victoria Street in the direction of the police station."
But it wasn't the 'Great Escape' that the two females had planned.
Added the PSNI spokesperson: "Mr McQueen was later recovered, with some damage caused, near a restaurant on Donegall Quay and has been returned back to the bar.
"Police would like anyone who witnessed the theft or saw these two females with the portrait to contact Police at Lisburn Road quoting reference 1256 of 16th October 2016."