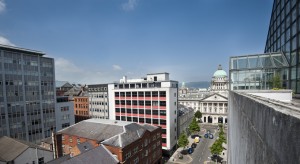 THE public are being urged to tell Belfast City Council how they see the city in 2030 by taking part in our public consultation using social media, workshops, public meetings and the web.
Belfast City Council has taken on a new duty to lead the community planning process, with a number of partners, as part of local government reform.
By getting in on the plans and proposals from the start the public can help shape what we are calling the 'Belfast Agenda'.
People are being encouraged to join the #belfastconversation on social media, and community workshops are running throughout May which are open to everyone with an interest in the future of our city – whether you work, live or just visit Belfast.
By getting involved you can help the council and its partners make your vision a reality as part of the Belfast Agenda.
Community workshops take place on Monday, 11 May at Crumlin Road at 14.00; Thursday, 14 May at the Skainos Centre, Newtownards Road at 18.30; Monday, 18 May at Farset International, Springfield Road at 14.00; and Wednesday, 27 May at Crescent Arts Centre, University Road at 18.30.
Pre-registration is available by emailing communityplanning@belfastcity.gov.uk or by telephoning 02890 320202ext 6018.
There is also an online survey at www.belfastcity.gov.uk/belfastagenda which can be completed up until 31 May, and people on Twitter can give their views via @belfastcc by using #belfastconversation
A council spokesperson said: "We want to hear from the people who live, work and visit Belfast to ensure we align our visions of what the city is and what it can become.
"We are building on previous engagement initiatives such as our 2014 residents' survey.
"This showed that while 92 per cent of residents were satisfied with Belfast as a place to live, creating more jobs and a strong economy were important priorities. Community relations and health and wellbeing were highlighted as areas for improvement, and keeping Belfast clean, green and attractive was also important," said the spokesperson.
"What we are looking for are ideas on how best to do that so that the community feel they are part of it, have a real say and that their opinions are valued and really can shape Belfast for the future."