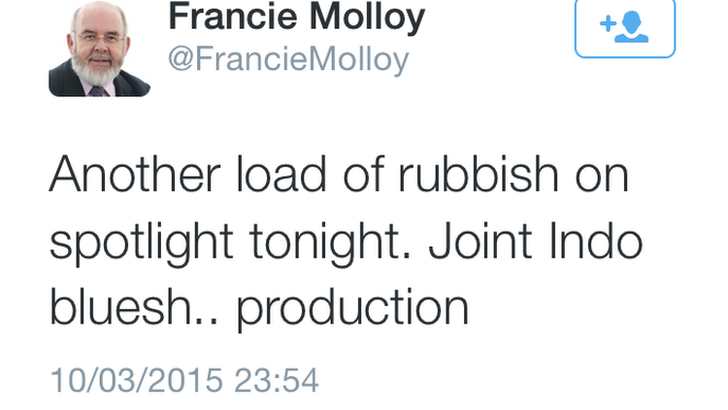 SINN Fein MP Francie Molloy has now rowed back from slamming an IRA victim who told his horrific story of rape at the hands of a senior Provo.
Paudie McGahon broke his silence to reveal who the IRA man raped him in his Co Louth where he was given refuge by his parents 23 years ago.
Following the programme's screening on Tuesday night, Francie Molloy tweeted:  "Another load of rubbish on Spotlight tonight.
"Just Indo bluesh….production."
Party president Gerry Adams has said this morning that the alleged perpetrator should now come forward.
Party colleague and MLA Raymond McCartney said this morning on BBC Radio Foyle that Mr Molloy should apologise over his tweet.
Red-faced Molloy later withdrew tweet from his Twitter feed.
 Now he has finally said sorry.
In a statement, Mr Molloy said: "I apologise for any offence my post caused to Paudie McGahon or any victim of abuse.
"I hope that justice is served and the appropriate support delivered to Mr McGahon.
"Sinn Féin's priority is to support victims of abuse whether that abuse is historical or contemporary and we will support victims in their efforts to get truth and justice.
"There is a currently a Garda investigation into these allegations.
"These matters are best dealt with in the justice system rather than trial by television and it is my hope that justice will be done."