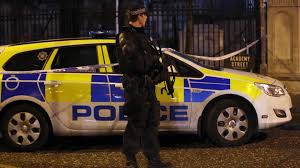 THREE men are to appear in court next month after a security operation netted three four guns.
The men – aged 29, 33, and 35 are charged with assault and disorderly behaviour.
They were among four men were arrested ested and four suspected guns recovered in Carrickfergus, Co Antrim.
Police were questioning one man on Saturday afternoon after he was stopped in a vehicle at Minorca Place, when three others turned up on foot.
The three men ran off but were later detained.
Police remained at the scene for some time but have now left.
The three men are to appear at Belfast Magistrates' Court on March 12.
Inspector Jim McGrillen said: "The charges relate to an incident at Minorca Place in Carrickfergus on Saturday.
"A 24-year-old man arrested remains in custody helping police with their inquiries.