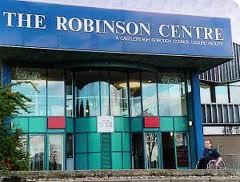 A sports and leisure centre in Castlereagh named after First Minister Peter Robinson has closed after asbestos was found on the premises.
The Robinson Centre at Montgomery Road has shut its doors as "a precautionary measure", says Castlereagh Council.
In a statement on its website, Castlereagh Council said asbestos had been found "in a previously unrecorded and difficult to access area".
The asbestos was discovered during a building management survey.
The council said further survey work was ongoing and the Health and Safety Executive NI (HSENI) was working with them.
"As a precautionary measure, the council has taken immediate action to close the centre until the full results of the survey is known," the statement said.
"It should be noted that materials containing asbestos are commonly found in buildings of a similar age, however with regular monitoring and management the risk is negligible."