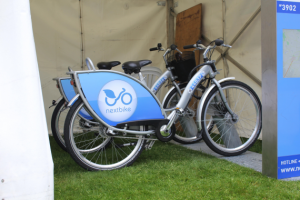 COCA-Cola HBC Northern Ireland was today announced as the sponsor for Belfast's public bike share scheme. 
The £300,000 sponsorship deal over three years was unveiled today by the Lord Mayor, Councillor Nichola Mallon, and Regional Development Minister Danny Kennedy MLA at Belfast City Hall, together with Frank O'Donnell, general manager of Coca Cola HBC for Ireland and Northern Ireland.
Due to start in April, the scheme will be operated by NSL Services and the first phase will use 300 cycles and 30 docking stations positioned across the city centre – from the Odyssey Arena to Bradbury Place, from Millfield to Central Station and the Gasworks.
The scheme is aimed at commuters, shoppers, students and visitors taking short journeys across the city, with journeys of less than 30 minutes free of charge.
The public bike share scheme has been taken forward as part of Belfast City Council's Investment Programme 2012- 2015.
The Department for Regional Development will provide funding of £1.1 million which will go towards the development of docking stations and bicycles and the Council will provide ongoing financial support during the next six years to manage the scheme.
Announcing the sponsorship, Belfast Lord Mayor Nichola Mallon said: "We are very excited about launching the Coca-Cola Zero Belfast Bikes scheme this Spring and welcoming Coca-Cola HBC Northern Ireland as our partners.
"Thanks to the sponsorship, we will be able to provide this fantastic new addition to Belfast's infrastructure at a very low cost to users.
"By keeping down the price of both the annual membership and the hire charges, we are hoping people in Belfast will embrace the benefits of cycling around the city to go about their day to day business.
"Whether it's a quick dash to a meeting, lunch with friends or a shopping trip across town, these bikes will be a superb addition to the city's transport links and a further enhancement to its tourism offering.
"We pledged – as part of our Investment Programme for the city – to explore and invest in projects which would develop our infrastructure, and also deliver benefits for neighbourhoods across Belfast.
"The bike scheme is a perfect example of this – not only will the scheme enhance connectivity across the city and encourage people to use and enjoy more of our assets, such as the Lagan Towpath and the National Cycle Network, but it will also support tourism and our wider economy," she added.
Transport Minister Danny Kennedy added: "Creating a cycling revolution in Northern Ireland is a key priority for me and the introduction of a public bike share scheme in Belfast is an important element of that goal.
"My Department has invested some £1.1 million to help take forward this scheme, which will help create a more connected and accessible city for commuters, tourists and workers. It will improve access to the city centre's commercial and retail centres from the surrounding neighbourhoods.
"I want to congratulate the council on their new partnership with Coca Cola, which I hope will bring mutual benefits to us all for many years to come."
Frank O'Donnell, General Manger, Coca Cola HBC Ireland and Northern Ireland said: "As a major employer and investor in Northern Ireland we are delighted to further strengthen our links to the community through our partnership with Belfast City Council on the Coca-Cola Zero Belfast bikes.
"Our investment in Coca Cola Zero Bikes is part of our wider commitment to help encourage active healthy lifestyles and we hope this scheme will enable more people to integrate cycling into their everyday lives, with the option of a healthier and happier commute."
Coca-Cola Zero Belfast Bikes will be a simple and cheap way to get around the city. Users need to register either online or by telephone, with a registration cost of just £20 for the year and they will receive an annual membership card.
Bike share is designed for short journeys and a quick turnaround. The first half an hour hire is free of charge, with small incremental charges afterwards – 50p for up to an hour, £3.50 for up to four hours and then increments of £4 for more than four hours.
Bike sharing is well established across Europe, North America and the Far East. Coca-Cola Zero is the sponsor of four other bike share schemes on the island of Ireland, including dublinbikes, which is now in its sixth year with more than 2.5 million journeys completed since 2011.