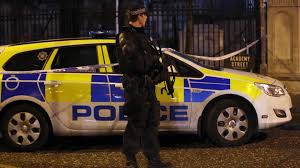 TWO men are still being quizzed over of a man in Ballymoney earlier this week.
Brian McIlhagga, 42, was shot dead by a gang outside a house at Riverview Park just before 10.30 pm on Monday.
The father-of-five, who was originally from Ballymena, had been beaten and shot once in the leg and died from his injuries.
Two men, aged 22 and 46, were arrested in Ballymoney on Thursday.
Police investigating the killing have carried out searches at a number of properties in the town and at a river near where Mr McIlhagga was shot.
Murdersquad detectives have renewed their appeal for information.
"Despite these arrests I want to again appeal to anyone who saw or heard anything in the Riverview Park area between 10pm and 11pm on Monday night to contact police," said Det Ch Insp Michael Harvey.
"I want to hear from anyone who saw men or vehicles moving in and around the area."
A woman and four children under the age of 13 were in the house at the time of the attack.
The woman was assaulted by the gang.