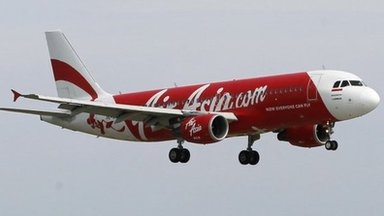 FEARS are growing for an AirAsia Indonesia airliner which has vanished with 162 people on board.
Flight QZ8501 lost contact with air traffic control at around 11.20 pm on Sunday night over the Java Sea.
The plane, an Airbus A320-200, disappeared midway into the flight of more than two hours from the city of Surabaya.
However, no distress call was made.
A search operation was suspended last night due to bad weather.
A fresh search will start today.
Planes from Indonesia and Singapore had been scouring an area of sea between Kalimantan and Java.
The missing jet had requested a "deviation" from the flight path due to storm clouds, AirAsia said.
Indonesia's transport ministry said the pilot had asked permission to climb to 38,000 ft (11,000m) to avoid thick cloud.
No wreckage has been found.