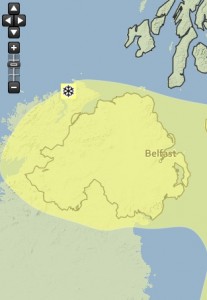 FORECASTERS have issued an alert for snow in parts of Northern Ireland for Boxing Day.
The Met Office says an area of rain, sleet and snow is expected to spread eastwards across parts of Northern Ireland, England and Wales during Boxing Day before clearing during the evening and overnight.
"A lot of uncertainty surrounds how much snow will occur, but there is the risk of several centimetres even at low levels. As precipitation clears, roads could turn very icy," said the chief forecaster.
"The public should be aware of the potential for disruption from snow.
"Please watch for updates to this warning, especially if travelling.
"There remains much more uncertainty than average regarding the track of this depression which in turn leads to uncertainty about the location of the heaviest precipitation and how much snow there will be.
"Where snow does occur accumulations of 2 to 4 cm are likely even to lower levels and in excess of 10 cm possible."