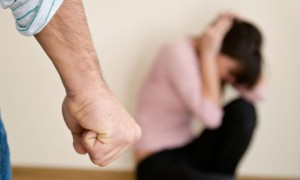 THE Police Service of Northern Ireland has today launched a new Domestic abuse poster campaign in the run-up to Christmas.
The campaign, entitled 'Domestic abuse is wrong, pick up the phone and make it stop' is designed to encourage the reporting of incidents and make domestic abuse victims aware that they can take steps to stop it.
The campaign will also run throughout December online and officers will be distributing the posters across Northern Ireland.
Speaking about the initiative Assistant Chief Constable Mark Hamilton, Service Improvement Department said, "We know that incidents of Domestic Abuse rise over the Christmas period.  Since 1 October 2013 – 30 September 2014 we have received 27,931 reports of domestic abuse incidents.  This is in comparison to the previous year's figure of 27,596.
"The Police Service of Northern Ireland respond to one incident of domestic abuse every 19 minutes, this is a frightening statistic. 
"However, we still believe that a large number of domestic incidents are unreported.
"We know that Domestic Abuse is a frightening crime which can affect anyone, both women and men.  Very often victims are isolated. 
"No one should have to endure abuse and I want to encourage all victims of domestic abuse to come forward and report the matter to the police."
The Police Service continues to work with key stakeholders to highlight the issue of Domestic Abuse and explore ways in which we can keep communities safer.
Recently, the Police Service of Northern Ireland was one of first recipients of the Onus training and Consultancy Service Platinum Awards, which is given to organisations who have committed to joining with Onus in extending the Safe Place message 'never to commit, condone or stay silent about domestic violence'.
A 24-hour Domestic and Sexual Violence Helpline is available to anyone who has concerns about domestic or sexual violence, now or in the past on 0808 802 1414.
The Police Service of Northern Ireland would strongly encourage anyone suffering from domestic abuse to contact their local police on the non-emergency 101 or in an emergency always call 999.