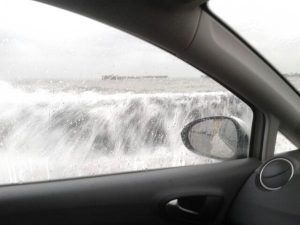 NORTHERN Ireland has been put on a severe 'weather bomb' alert.
The Met Office has issued an amber weather warning for some parts of the province with gale force winds predicted.
Winds are expected to reach speeds of 80 mph along the north coast of Antrim and Co Derry on Wednesday.
Waves of up to 30 ft high are also expected to roar into the north coast.
The Met Office has urged people to be prepared for "dangerous conditions".
Northern Ireland Electricity (NIE) emergency crews have been on standby since Tuesday night in preparation for damage to overhead electricity cables.
Sailings out of Belfast and Larne have either been delayed or cancelled because of rough waters in the Irish Sea.
The Met Office said: "Westerly winds will gust 70 to 80 mph at times and will be combined with exceptionally high waves.
"The public should be prepared for dangerous conditions, especially along causeways and coastal roads exposed to the west."
A yellow warning is in place for the rest of Northern Ireland.