THE Northern Ireland Tourist Board (NITB) is encouraging people to get festive and pay a visit to the Belfast Christmas Market, which is open until Sunday December 21 and is celebrating ten years as one of Northern Ireland's best loved seasonal highlights.
The grounds of Belfast City Hall have been transformed into a traditional festive market complete with over 80 wooden chalets, twinkling lights and the aroma of the traditional spirit-warming Glühwein.
Pauline Gormley NITB's Destination PR Officer said: "The Belfast Christmas Market has been a firm festive favourite over the last ten years and helps create a really special atmosphere throughout the city.  The market has really grown over the last decade and people can look forward to a fantastic range of things from Northern Ireland and around the globe including food, beverages, crafts and decorations with something for everyone.
"Visitors to the city can avail of some of the many accommodation deals that are on offer and after exploring the Christmas Market can sit back and relax in the continental bars with drinks from around the world," added Pauline.
The Christmas market takes shoppers on a global journey of gastronomic delights including crepes from France, Belgian chocolates and an exotic selection of ostrich, wild boar and crocodile burgers for those with a taste for adventure. Giant Bratwurst are cooked and sold from the iconic Schwenkgrille, Spanish Paella, and nougat from Italy is also on offer to festive shoppers. Handcrafted gifts such as soaps, wooden toys and decorations are also showcased as well as Peruvian clothing made out of genuine Alpaca wool.
Local retailers make up 30% of stalls and many from the wonderful St Georges Market will also be out in force showcasing some of what Northern Ireland has to offer. Local brands such as Suki Tea traded for the first time as a company at the Belfast Markets in 2004 and have continued to do so every year since. They are now a well established brand in NI, winning 27 Great Taste Awards and multiple industry awards.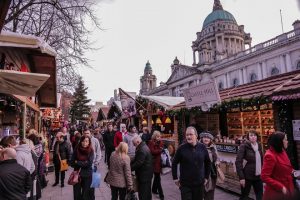 There are lots of fun activities available for younger family members to look forward to including a visit to Santa's Grotto, a ride on the carousel or having a picture taken in the snow globe.
The Christmas Market 'Buddy Scheme' runs from 10am – 12pm Monday to Wednesday and aims to provide additional assistance for those who may require it during their visit. After a walk around in the brisk winter air, the complimentary tea and coffee (served in the Lavery's beer tent as part of the scheme), provides a welcome treat.
The Belfast Christmas Market runs until Sunday December 21 from 10am Monday to Saturday and from 1pm on Sundays.  Belfast is a perfect destination for a winter short break as the place has something to suit every taste. Enjoy fantastic views, the buzz of local cafés and pubs, shopping hotspots, wonderful restaurants and plenty of craic!
For more information go to www.discovernorthernireland.com.