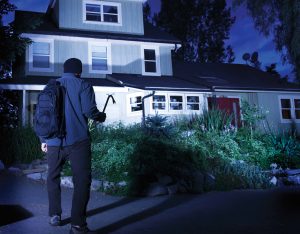 IT'S fast approaching the busiest time of year for burglars with darker evenings and long nights providing perfect cover for criminals.
Halloween, in particular, is a favourite time for thieves who know that many families will be out trick or treating, leaving homes empty and vulnerable to both the opportune and seasoned burglar.
Also, the sound of happy children and noise from fireworks displays can often mask the tell-tale sounds of a house break-in and suspicious sounds such as smashing glass go unnoticed.
"With the clocks going back in a few weeks  and winter definitely on its way, home and property security needs to be high priority for everyone," said Francis Cullen, Director of  Mercury Security Management, Northern Ireland's biggest independent security management company.
"This is especially important at Halloween – a night when burglars are aware that many of us are out and about.  Also, this year, October 31 falls on a Friday meaning many people will take the opportunity to enjoy a Halloween break and maybe be away from home for a few days or on holiday with their kids for the mid-term break.
"Most home burglaries are carried out by opportunists who take advantage when you have forgotten to lock a door, or close a window properly – an easy thing to do when you have excited children keen to get out and enjoy the fun.
"Bogus callers are also known to take advantage of Halloween, a time when many of us enjoy opening our front doors to youngsters who are out trick or treating," added Francis.
Mercury Security Management has almost 15 years' experience in keeping people and property secure and to help make this coming winter a safe one for everyone, the company has compiled 10 Steps to Home Security to keep your property and possessions secure at Halloween and throughout the winter months.
Mercury's 10 Steps to Home Security
(1) Just before you leave the house, double check all doors and windows are securely locked.
(2) Lock all windows and fit restrictors – thieves can wriggle through any gap larger than a human head. Fit locks at the top and bottom of patio doors.
(3) Always put your car in the garage if you have one – and always make sure that the garage is locked.
(4) Make your house look occupied at night – leave the lights on in living areas and draw the curtains. Or fit a timer to lamps around the house, so that they will automatically switch on at dusk.
(5) If you are having a firework party in the garden, make sure front doors and windows are shut and locked.
(6) Never leave garden items or ornaments outside during the winter months – they can be used to break windows and doors or cause general damage to cars and property.
(7) Visible alarms make burglars think twice – get systems serviced regularly and make sure you switch them on when you go out.
(8) Don't leave pets outside on dark evenings and when you are not at home. Pet theft is on the increase in Northern Ireland and even crossbreeds and mongrels can be of value to unscrupulous people.
(9) To hamper bogus callers, fit a security chain to your front (and back) doors.  If a stranger knocks on your door, stop, check the chain is on and verify the caller's identification before opening your door.
(10) If a burglar does get in to your home, handbags, wallets, phones and car keys are obvious targets, so whether you are in or out, never leave them in a prominent position such as at the bottom of the stairs.
For further information about Mercury Security Management and to find out how they can help protect your home or business, call: 028 9262 0510 www.mercurysecurity.biz or email: info@mercurysecurity.biz