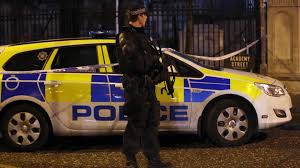 DETECTIVES have arrested a man in connection with serious crime after an undecover operation.
He was arrested in Kinawley, Co Fermanagh on Wednesday night as a result of "suspicious activity".
An overnight search operation is continuing in the village.
It is understood the suspect had been under surveillance prior to his arrest.
The man was whisked to the serious crime suite in Antrim for questioning.
Area commander Chief Superintendent Kevin Dunwoody said: "Detectives from the PSNI's Serious Crime Branch, assisted by district police, are carrying out a search operation in relation to serious crime in this area."