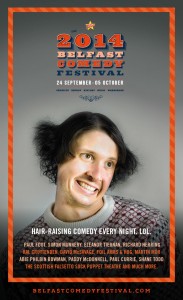 LAUGHTER really is the best medicine according to the Northern Ireland Tourist Board (NITB).
And that is why they are encouraging people from all over NI to laugh themselves silly and attend the 2014 Belfast Comedy Festival which runs from September 24 to October 5.
The bumper line-up of popular comics is guaranteed to bring the house down with non-stop laughter and hilarity and comedy lovers are sure to enjoy a good giggle as they choose from the wide variety of acts available.
Ruth Burns, NITB Destination Marketing & PR Manager explains why the comedy festival is the perfect night out for those who love nothing more than a good belly laugh.
"The people of Northern Ireland are renowned all over the world for their love of 'craic' so there is no doubt they will enjoy the wide range of acts on offer at the Belfast Comedy Festival. From comedy clubs with popular headlining acts to laughter yoga and kid's workshops, there really is something to suit every comedic taste, "said Ruth.
"We would encourage everyone to come along and enjoy a good laugh with friends or family as this year is set to be bigger and better than ever, " added Ruth.
Some of the many event highlights include;
Laverys Comedy Club, September 24, 8.30pm. Joe Rooney, the extremely talented comedian/writer/director known for his hilarious portrayal of Father Damo in Father Ted, drops into town to headline a monster line-up which also includes Micky Bartlett, Colin Geddis and Phil McEwan.
Wonder Frog, The Black Box, September 24, 8pm. This very unique and quirky show is bound to entertain and delight attendees as the comedy group use only audience suggestions and improvisation.
Chaplin The Early Days, Beanbag Cinema , Donegall St, September 25, 12.30pm. To celebrate Chaplin's creation of his Little Tramp, the screening will begin with some of his great films from the Keystone studio , the giants of early slapstick cinema.
Hal Cruttenden: The Tough Luvvie Tour, Waterfront Studio, September 25, 8pm. Hal Cruttenden is being tipped as the next big thing so comedy enthusiasts should book their tickets quickly to ensure they can catch Hal's unique mix of warm and catty humour.
On the Buses: Belfast Comedy Tours, departing High Street, September 26, 7pm. Local comedian Paddy McDonnell will take attendees around the funnier side of Belfast's sights with a few hilarious surprises on the way. The tours are organised in association with leading tour operator Belfast City Sightseeing Tours and last around 45 minutes.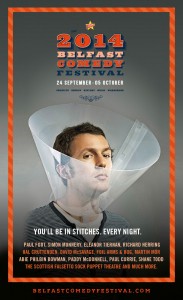 Laughter Yoga with Laugh n' a half, The Black Box, September 26, 5.30pm. Pauline Dunlop will lead this laughter yoga class which will allow participants to experience this revolutionary activity which has taken the world by storm. The yoga includes a combination of deep breathing exercises and laughter which oxygenates the body and brain.
Abie Philbin Bowman, The Sunflower, September 27, 8pm. Abie Philbin Bowman is renowned for being a unique voice in comedy and broadcasting and for blending curiosity, intelligence and wit. He has created some of Ireland's most mischievous and thought provoking radio, stand-up and television and in 2006 took the Edinburgh Fringe by storm with his debut comedy.
Kidprov , Kid's Improv Comedy Workshop, Ulster Hall, September 27, 9.30am. KidProv is a comedy improve workshop just for kids. Based on the teaching of Viola Spolin, the workshop teaches games, and exercise to help children to learn to work together to create, communicate and have fun together. Spaces are limited so book quickly!
Kids Laughter Yoga, Ulster Hall, September 28, 11am. Let your kids laugh themselves silly at this innovative workshop where they can enjoy an hour of laughter yoga. The instructor uses eye contact, laughter exercises, music and dance to ensure they enjoy some laughter meditation.
Ghostbusters (Hunters), The Black Box, September 28, 2.30pm. Originally broadcast on CBS in 1948, The Ghost Hunters is a largely forgotten radio play, a tale of eccentric academics entering the world of pest control which turned out to be Harold Ramis' inspiration for the popular film Ghostbusters. In this matinee, the Wireless Mystery Theatre will present The Ghost Hunter as it was originally transmitted, with live sound effects, music and period commercials.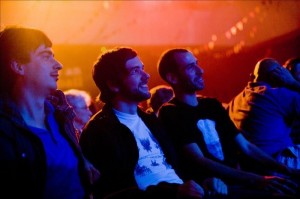 Monday Night Comedy, The Pavilion, September 29, 8.30pm. Comedy enthusiasts can laugh the night away watching the stars of tomorrow performing in an intimate room in The Pavilion. Performing will be established acts such as Micky Bartlett, Shane Todd and Mike McGoldrick as well as first time and up and coming acts.
Motor Mouth Mondays, Maverick, September 29, 9.30pm. Motor Mouth Mondays will be hosted by Gemma Hutton who will be accompanied by special guest Donal Vaughan who is an award winning Dublin based comedian.
The Empire Laughs Back Comedy Club, Empire Music Hall, September 30, 8pm. One of the most renowned comedy clubs in Northern Ireland, The Empire Laughs Back Comedy Club has been the city's premier comedy club for more than 20 years. Numerous well known comedians have performed in the club over the years including Patrick Kielty who was spotted after performing there.
Alan Irwin and Christian Talbot, McHugh's Basement, September 30, 8pm. This event will showcase the best of up and coming comedy in Northern Ireland. Alan Irwin has made waves across Northern Ireland and gigged across the UK and Ireland supporting a number of high profile comedians. Christian Talbot was one of the finalists in Amnesty International's Secret Policeman's Ball 'World's Shortest Gig'.
Sean Hegarty: 1 Liner Action, McHugh's Basement, October 1, 8pm. Sean Hegarty is a Northern Irish one-liner comedian who recently came runner-up in the UK Pun Championships in 2014. He has written for BBC TV as well as BBC Radio Ulster and his jokes have featured in FHM, IN magazine and The Sunday Life.
Queens Comedy Club, Mandela Hall, QUB, October 1, 9pm. Well known comedian Colin Murphy will compere this popular night which has been running since 1992. Over the years the club has hosted many major comedians including Peter Kay, Dylan Moran, Bill Bailey, Sean Lock and Ed Byrne.
Hobgoblin Comedy Award, The Black Box, October 2, 8pm. Belly Laughs will host one of the 20 regional heats of the national Hobgoblin Comedy Award. Comedy lovers will see a hand-picked selection of the best emerging and semi-established regional comics who will compete for a place at the awards final in February 2015.
Paul Foot, The Black Box, October 3, 7pm. Paul Foot is well known for appearing on popular comic shows such as Never Mind the Buzzcocks, 8 Out of 10 Cats and many more. This is a great chance to enjoy the unique comedy of Paul who has been described by The Daily Express as 'a cult classic, a relic from the past, a rare exotic bird – he's special.'
Voicebox, The Loft, October 3, 8pm. Hosted and curated by Marcus Keeley, Voicebox Comedy is Belfast's pioneering alternative comedy night, challenging performers to step outside of their comfort zones and experiment.
Paul Currie, The Mac, October 4, 8pm. Self-styled Clownarchist Paul Currie entertains audiences with a mash up of old school Victorian music, punk rock energy and aggression to the formulaic art of stand –up comedy. Paul trained in clown and physical theatre and has been performing for over 20 years so attendees will be astounded by his one man show and will leave with hilarious memories they will never forget.
Footlights Walking Tour, departs from Ulster Hall, October 4, 2pm. This one hour walking tour will review the history of Belfast's theatre and music halls. Starting at the Ulster Hall, music enthusiasts will visit iconic theatres such as the Grand Opera House, the Royal Hippodrome, Royal Alhambra and Music Hall Lane.
Richard Herring: Lord of the Dance Settee, Empire Music Hall, October 5, 8pm. Richard Herring's stand up show will cover weighty issues such as death, love and religion.
Crescent Comedy Improv Presents, Crescent Arts Centre, October 5, 7.30pm. Rosie Pelan, trained in short form comedy improvisation and with a professional acting career of over twenty years is the comedy improv tutor at the Crescent Arts Centre. In this show, students will come together to give a unique evening of instantly created characters and scenes with only audience suggestions to inspire the performers.
For information log onto www.discovernorthernireland.com or www.bellylaughsbelfast.com.