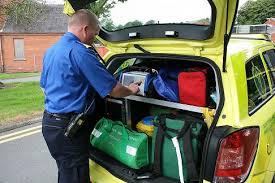 POLICE are investigating after callous thieves stole a defibrillator from the back of an ambulance.
The theft happened in Belfast city centre this evening while a paramedic crew who were treating another patient nearby.
The incident took place outside the Movie House cinema on the Dublin Road around 8.20 pm.
Northern Ireland Ambulance Service spokesman John McPoland said: "A man approached the back of the ambulance, grabbed the defibrillator and ran off.
"This theft will cost the ambulance service around £10,000 to replace it. We would urge anyone with information about the theft to tell the police immediately."