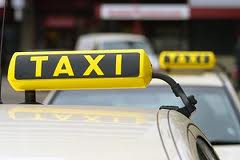 A thief who stole a taxi in Strabane drove to Derry where he collected fares, police have revealed.
The taxi was stolen from outside the Corner Shop on Barrack Street in the Co Tyrone town after the owner entered the shop on Saturday night.
The thief then drove the taxi to the city where he collected fares.
The vehicle, which was damaged during the period it was stolen, was located a few hours later by police.
One arrest was made for what police described as "an array of offences."
It is the second time in three weeks in Strabane a car has been stolen while their owners enter shops.
As a result, Police have again appealed to owners to remove keys form their vehicles at all times.
A PSNI spokesperson said: "These criminals lay in wait for these gift wrapped opportunities.
"Please remove the keys from your vehicle when you leave it. no matter how soon you intend to return to it."