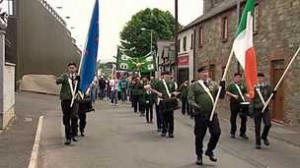 REPUBLICANS have been accused of "upping the ante" ahead of two hunger strike commemorations to be held in Dungiven this weekend.
East Derry DUP MEP Gregory Campbell has claimed the erection of a number of flags, including the Irish tricolour close to a Protestant church and graveyard on the town's Main Street, was a "deliberate attempt" to intimidate the minority Protestant population in the predominantly nationalist Co Derry town.
Eleven bands and up to 1,000 people are expected to take part in a parade through the town this evening organised by the Kevin Lynch Memorial Flute Band.
The band, along with the James Connolly Memorial Flute Band, will parade in the town at lunchtime tomorrow.
Both events have been organised to commemorate the death of Kevin Lynch, from Dungiven who was one of the 10 hunger strikers who died in Long Kesh in 1981.
He died on 1 August, the 71st day of his protest.
Mr Campbell has called for the removal of the flags, adding not to so would be an "outrage."
He said: "The erection of flags in close proximity to the Church of Ireland's property will be seen as a deliberate attempt to intimidate the minority Protestant population in Dungiven and the surrounding area.
"The analogy of what would have happened if there had been a reversal of this scenario is all too obvious.
"If, for example, an overwhelmingly unionist town which had a small Roman Catholic church on the Main Street had a monument to Billy Wright erected outside it and then loyalist terrorist flags were erected beside the monument and adjacent to the church graveyard, what would the response have been?"
Mr Campbell added: "Having raised this locally and been assured that the flags would be removed the republican community now need to exercise whatever influence they have to ensure the flags are removed."
He concluded: "It would be an outrage if such behaviour was to continue."