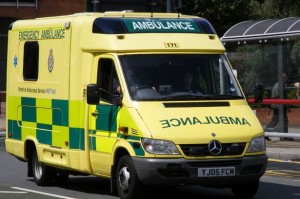 A pensioner has died during an incident at a lake earlier on Monday evening.
At first it was believed the 68-year-old man had gone for a swim at the lake in Bessbrook, Co Armagh.
However, it later emerged that the man, Oswald 'Ossie' Bradley, who is well known in the area, got into difficulties while trying to recover two Tricolour flags placed on an island at what is know as Bessbrook Pond.
Locals say a teenager went into the waters and pulled the former chip shop owner back to the shore for first aid.
He was rushed by paramedic crews to Daisy Hill Hospital in Newry where valiant doctors were unable to safe him.
The PSNI said officers were not treating the death as suspicious but as a tragic accident.
Local SDLP MLA Dominic Bradley said: "This is tragic news for the community of Bessbrook where I once came from.
"I offer my sympathies to this man's family who must be totally shocked at this tragic death. 'Ossie' was well known in the village. He was a character'
The PSNI have now removed the contentious flags from the island.