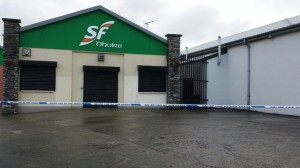 EAST Londonderry DUP MP Gregory Campbell has condemned the overnight arson attack on Sinn Fein's headquarters in Derry.
Damage running into thousands of pounds was caused to the offices on Eastway in Creggan in the attack in which inflammable liquid was poured into the building's press room and set alight.
Mr Campbell said those who threatened politicians, civilians, police officers or attacked the offices used by politicians "must be condemned."
He added all such actions were "wrong" and the police should make every effort to bring those responsible to justice.
He added: ""I have a vivid memory of the day a bomb was planted under my car.
"Those who planted it not only wanted to end my life but also cared little for my wife and children who were travelling with me.
"Those who planted that bomb are no different to those faceless people who threaten politicians and attack party offices today.
"All must be condemned."
He added: "There can be no equivocation either in those who are targeted or when they are targeted. I, and my party, condemn all acts of terror whether today, 30 or 40 years ago."unnamed-1
Mr Campbell went on to criticise Sinn Fein who, he claimed, "selectively" condemned such actions.
He added: "In 2011, Sinn Fein nominated Councillor Sean McGlinchey as the Mayor of Limavady Borough Council.
"Mr. McGlinchey was convicted for his part in planting a bomb in Coleraine which killed six people and destroyed dozens of offices and commercial premises in 1973.
"That bomb attack was just a short car journey from where their offices now appear to have been subjected to an attack."
Mr Campbell concluded: "Condemnation of an act of terror is entirely appropriate; it appears that keeping it consistent is a harder task for some."